Looking for a fingerprint enabled smart lock? Check out our comprehensive Kwikset Halo Smart Lock Review covering all aspects of this smart lock including design, features, installation, smart home integrations, and more.
Today, smart technology is being incorporated into practically every home improvement device around us. The future of home security is all about internet-based devices, each of which will be interconnected through a network known as the Internet of Things (IoT). Door locks, being vital to home security, are not exempted from this trend.
The emergence of smart locks is replacing the usage of purely mechanical locks. The transition to electronic functioning and internet connectivity means that smart locks are capable of doing a lot more than traditional locks. Despite the additional benefits, though, these locks do come with new security risks associated with hacking and other cybercrimes.
The Kwikset Halo Touch Smart Lock is one such device, a Wi-Fi-enabled addition to Kwikset's line of smart locks.
Last update on 2023-03-20 / Affiliate links / Images from Amazon Product Advertising API
As the leading lock manufacturer, Kwikset understands the world we live in and has been striving to make this smart lock secure for us. Putting customer safety above everything else, the manufacturer aims to deliver unmatched security, improving on the security features over time.
The lock was also showcased by Kwikset in its booth during the CES 2023 at Vegas.
Here is our in-depth Halo Touch Smart Lock Review.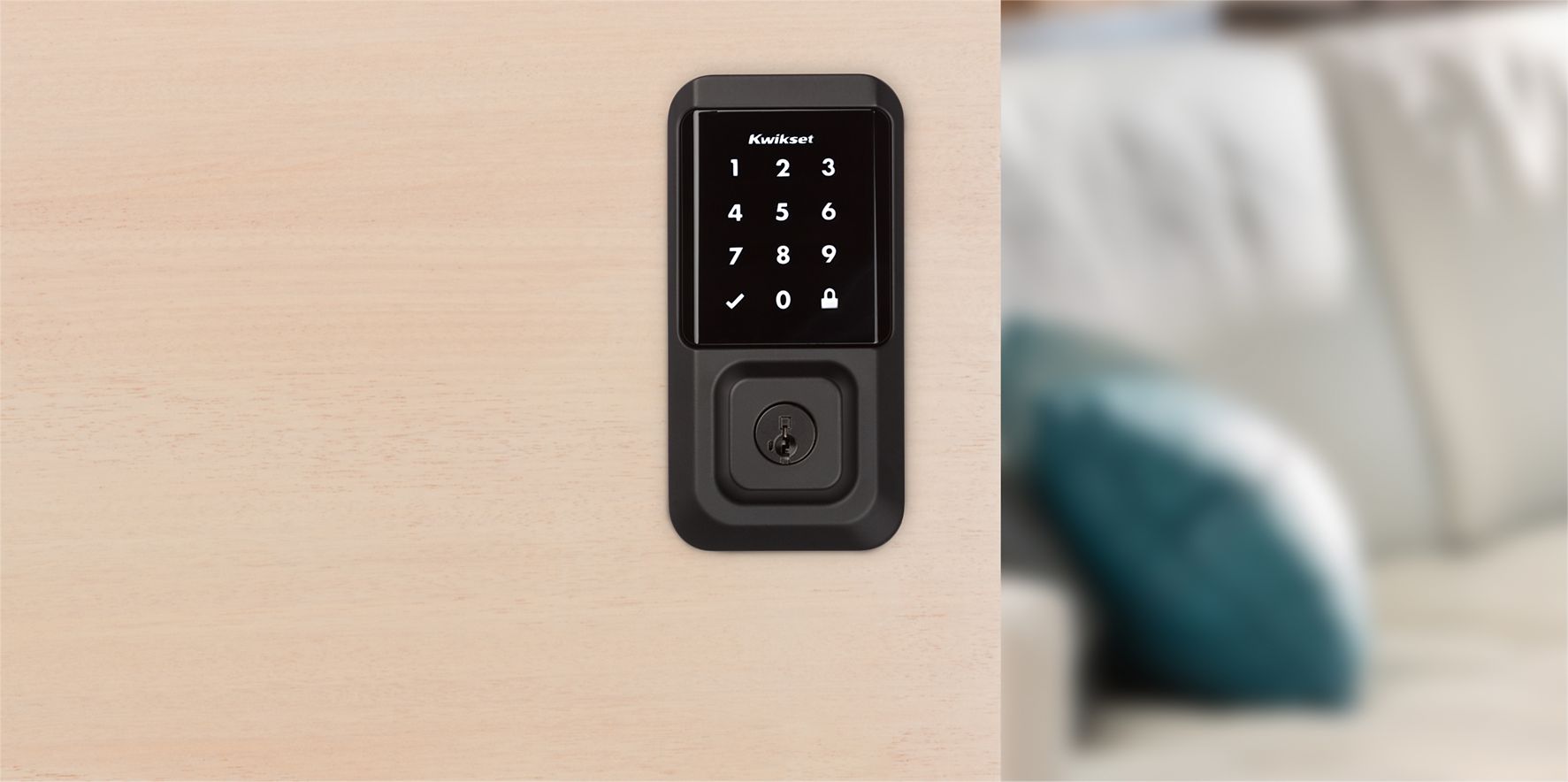 Product Overview
The core feature of the Halo Smart Touch Lock is its fingerprint technology, which isn't a new concept with other smart devices such as smartphones, but a relatively new feature when it comes to door locks.
Introducing a hassle-free entry solution for families, the Halo Touch Smart Lock stores up to 100 fingerprints. This allows one-touch locking/unlocking to a maximum of 50 users.
As a Wi-Fi-enabled lock, the Halo Smart Touch Lock doesn't require a Wi-Fi module or third-party hub for internet connectivity. It should directly connect to your existing Wi-Fi network and smartphone to seamlessly integrate into your smart home.
Plus, you don't need to be at home or close to the lock to be able to control it. As long as you have internet access, you can monitor it from anywhere in the world.
Pros
Hassle-free one-touch entry through fingerprint technology
Advanced security
Stores 100 fingerprints, that is, up to 50 users
Smart home integrations with Alexa and Google Assistant
Easy installation
In-built Wi-Fi
Cons
Limited flexibility for home integrations, for instance, Apple HomeKit is not an option for users
Product Features

Fingerprint Technology
The Halo Touch Smart Lock brings security and convenience at your fingertips. Unlike other Kwikset Halo models, the Halo Touch Smart Lock has no physical keypad for entry codes.
On the face of the lock, there's a simple fingerprint scanner under an LED indicator bar.
Without a number pad at all, the lock is much smaller in size than most other smart locks out there. With a simple black spot in the middle for fingerprint scanning, the lock looks no more than a standard deadbolt.
As mentioned earlier, as many as 50 users can attain one-touch entry as it can store 100 fingerprints. When you enter your fingerprint into the lock, it instantly stores it locally, and not in the cloud.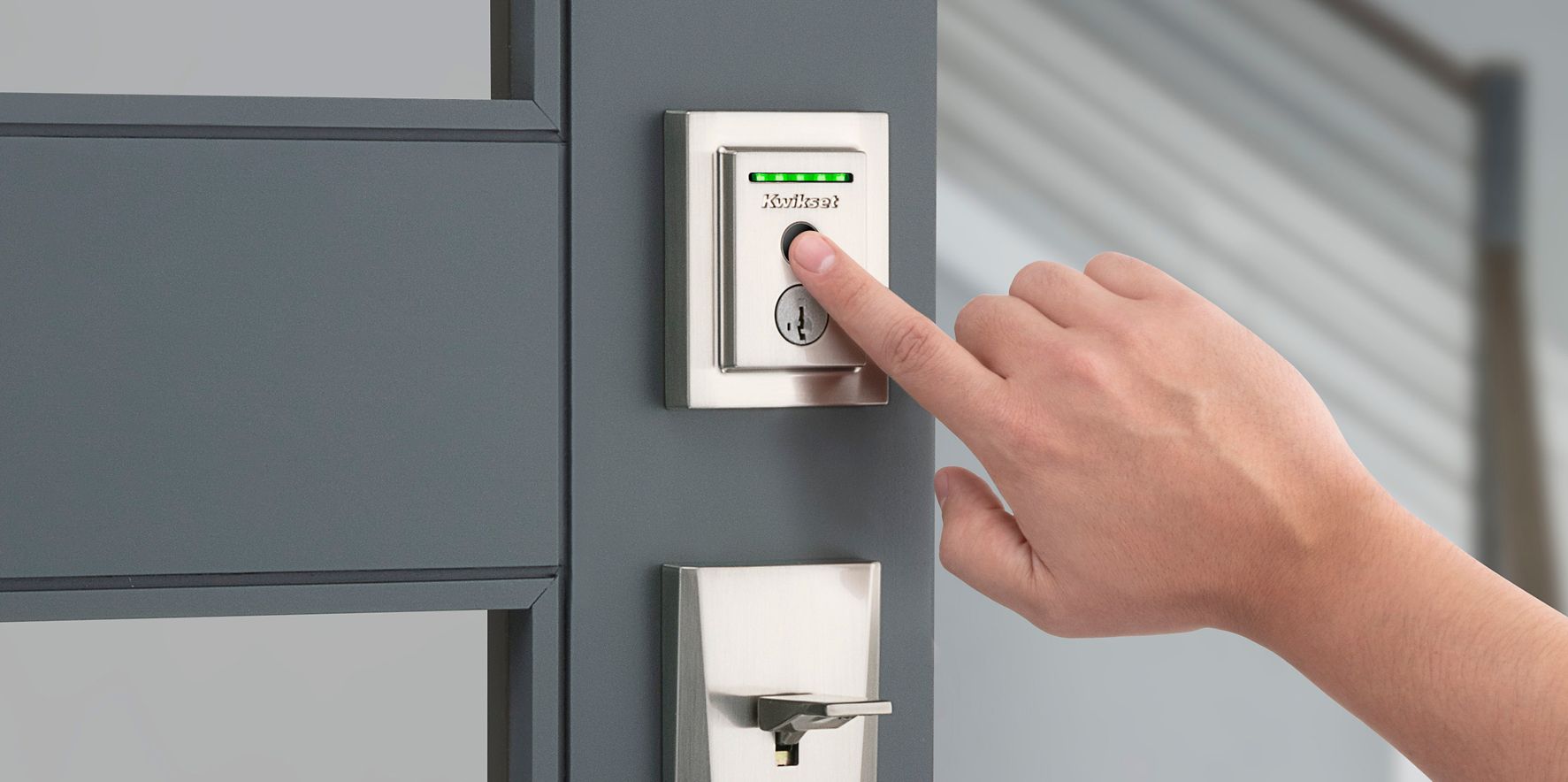 SmartKey Security
With Halo Touch Smart Lock, you need not worry about lock tempering and similar security.
Its SmartKey Security feature intelligently resists common break-in methods such as lock picking, torque attacks, and lock bumping.
Also, the feature allows you to quickly re-key your lock in case you lost your keys, rendering the previous keys useless.
Remote Access
With Halo Touch Smart Lock, you have more control over your door lock than ever.
Using an internet connection and a smart device, you can lock/unlock the device, stay on top of lock activity, manage users, and do so much more from anywhere in the world. All you need to do is download the Kwikset app and get started.
Ultimate control also means that you can program the lock to send notifications when someone goes in and out of your home. You no longer need to worry about whether your loved ones have arrived home or not, or about any suspicious entries.
High Aesthetic Value
Despite being small, the Halo Touch Smart Lock doesn't compromise on style and design. It comes in two styles: traditional and contemporary. Each style has different finishing options.
For a traditional style, finishing options include Satin nickel and Venetian bronze, while those available for contemporary style are Satin nickel and Iron black.
Thus, if you don't wish to compromise on your home's aesthetic demands with the installation of a smart lock, Halo Touch Smart Lock is a worthwhile option.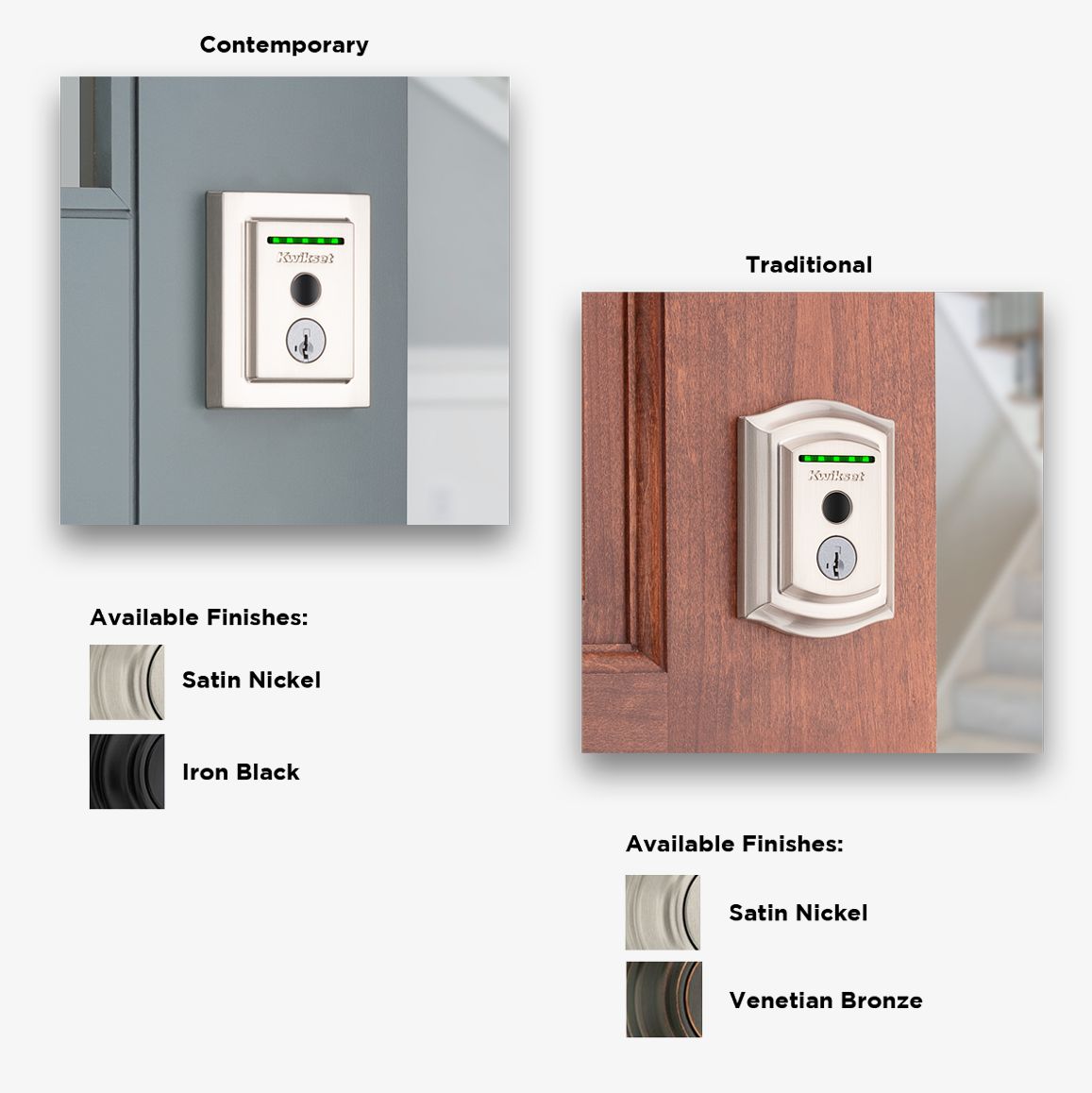 High Durability and Quality
The Halo Touch Smart lock is BHMA-certified, which marks the highest certification for residential grade performance. This means that this lock goes through a series of security and operational tests, which ensures its outstanding quality and durability.
Smart Home Integrations
One-stop connectivity is becoming a need as more and more homeowners are looking for highly flexible devices, especially in terms of smart home integration options.
While the Halo Touch Smart Lock is not the best option when it comes to home integration flexibility, it does pair with Google Assistant and Amazon Alexa for voice control. However, it doesn't support Apple's Siri or HomeKit app.
Yet, it doesn't mean you can't control the lock using your iPhone at all. The Kwikset app is available on the Apple App Store. You can download it on your Apple device and have total control over the lock through the app.
The only function you won't be able to use is voice control, which requires Siri's integration.
Frequently Asked Questions
How is the Halo Touch Smart Lock Powered?
The Halo Touch Smart Lock is powered by 4 AA batteries.
What Entry methods Are Offered by the Lock?
The smart lock offers four entry options that include pre-registered fingerprint, the Kwikset app, voice control through Google Assistant or Amazon Alexa, and a traditional key.
Does the Halo Touch Unlock Using Any fingerprint?
The device will only unlock through fingerprint technology if the scanned fingerprint was registered into the system beforehand. When it comes to locking the device, though, any fingerprint should work.
How Long Do The Batteries Last?
The smart lock batteries should last for approximately six months.
Can I Use Voice Control to Lock/Unlock Through My iPhone?
Unfortunately, you can't use voice control to manage the lock through an Apple device. You can use the Kwikset app to control, monitor, and manage the lock through your iPhone, but the voice control feature is only available for android users with Alexa or Google Assistant.
How Does the Halo Touch Ensure Data Security?
To ensure the security of the registered fingerprints, the scans are stored locally rather than in the cloud.
What Apps Other Than Kwikset Can I Use to Control the Lock?
Besides the Kwikset app, you can use Aura and Halo to manage the lock.
Installation Guide: How to install the Kwikset Halo Touch?
Step 1: Ensure Compatibility
To start with, confirm that the hole in the door is either 2-1/8" (54mm) or 1-1/2" (38mm). The backset should be either 2-3/8" or 2-3/4", while the thickness should be between 1-3/8" and 2".
Measure each of them to ensure compatibility with the Halo Touch Smart Lock. Also, keep in mind that it is not compatible with rim lock, mortise lock, or integrated interior. If a standard deadbolt is attached separately, your door is compatible.
Step 2: Mount the Door Latch and Strike
Carry the latch in front of the hole on the door such that the latch face flush should face the door edge. If the D-shaped hole is not centered in the door hole, extend the latch by rotating the latch face. Then, install the strike on the door frame, drilling a minimum of 1" deep hole in the door frame.
Step 3: Install the Exterior
Depending on the diameter length, you may need an adapter ring for the installation of the exterior. Take the interior assembly and remove the mounting plate from it. Next, install the exterior and the mounting plate.
Step 4: Install the Interior Assembly
Remove the battery pack and the interior cover from the interior assembly. But make sure that the turn piece shaft is pointing up while you do this. Then, mount the interior assembly onto the mounting plate.
Step 5: Install the Batteries
Install 4 AA batteries into the device.
Step 6: Test the Lock
Use all three entry methods to lock/unlock the device when testing it.
Step 7: Install the Interior Cover
When attempting to install the interior cover, you may need to rotate the turn piece to ensure alignment with the turn piece shaft.
Step 8: Download the Kwikset App
Once you've downloaded the Kwikset App, you will need to create an account and follow the setup instructions.
Final Verdict: Kwikset Halo Review
To sum it up, Halo Touch Smart Lock is a tremendous addition to smart lock technology in 2023. Providing consumers with the best in class fingerprint unlocking technology, the lock is perfect for family members that require frequent entries/exits.
You can buy the traditional or contemporary style in your preferred design right now. It is available on Amazon, Lowes.com, Build.com, and HomeDepot.com.
If a smart lock is among your smart tech list, then this Kwikset Halo Wi-Fi smart lock will be the perfect fit.
Ultraloq UL3 BT Smart Lock Review