If you're a smart home technology enthusiast, go through our Level Smart Lock Review to explore one of the most innovative invisible smart lock devices out there.
The concept of smart homes has driven the growth of home automation products in various categories for a while now. It has turned smart home security into a mounting concern for many households today.
Numerous smart locks with varying features have been introduced to address this need. Some rely on fingerprint technology, others on Bluetooth, and many on Wi-Fi connectivity. However, only a few players manage to influence the industry and define an entirely new direction.
No one denies the technological advancements and sophistication demonstrated by each new electronic lock, but one issue persisted with every device: The locks' compatibility with the doors or the doors' design.
In this high-tech world, you never know what suddenly comes up to disrupt the market and make competition irrelevant.
Level Home, a smart home technology startup, emerged from nowhere to introduce an entirely new idea into smart locks: Invisibility.
John Martin and Ken Goto, former employees of Apple, founded the company in late 2016. Ever since the launch, they've raised funding of $71 million, with major investments coming from Lennar Homes and Walmart.
Its first patented product, the Level Smart lock, is actually an invisible lock that hides behind your existing deadbolt, without distorting the aesthetics of your door.
Here is a comprehensive Level Smart Lock Review issuing our take on the new smart lock:
Product Overview
The Level Smart Lock in an incredible device that can convert any traditional deadbolt into a smart lock. According to Level Home, this conversion or the installation takes only about 10 minutes if you have a screwdriver with you.
The co-founder and CEO of Level Home, John Martin, states that the company adopts an approach that's different from other players out there. He points out the under-delivery of many smart home products – the complicated, over-engineered products – require people to change their way of doing things. Level Home aims to launch products that can blend in with people's existing routines and homes.
John explains that the company starts at square zero when creating a product so as to strike the perfect balance between technology and the practicality of our everyday life. The Level Smart Lock is a result of these underlying ideas and notions.
Simply put, the Level Smart Lock allows you to turn your existing lock into a smart lock. You can not only unlock the door through your traditional keys but also through other keyless methods such as the Level App and voice control.
On top of that, the upgrade allows you to talk to visitors, share virtual keys with others to grant temporary access, and monitor door activity through smart home integrations.
Created using a six-stage stainless steel gearbox, the Level Smart Lock is certainly made to last. Plus, the battery life goes up to a year.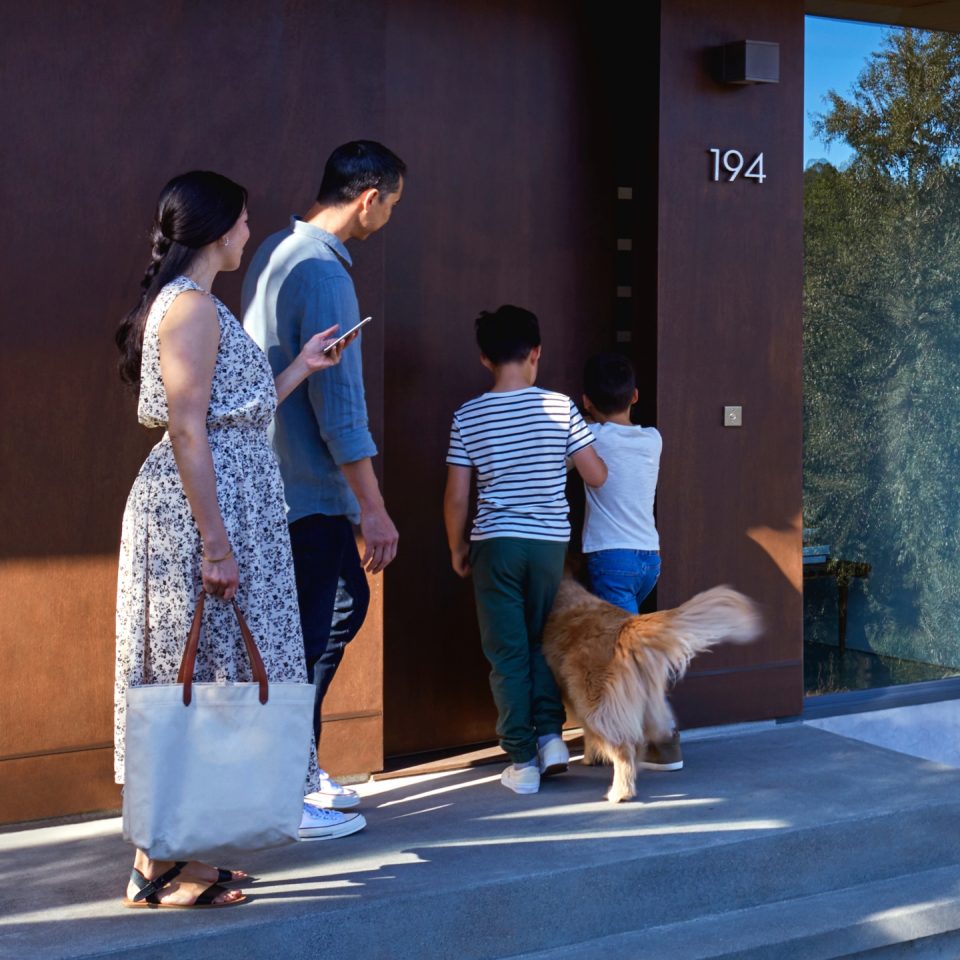 Pros
Easily installs to your existing deadbolt
Offers keyless entry options
Allows you to send group invites and access to people
Auto-lock/unlock features
Invisible design
Doesn't distort door aesthetics
Cons
Requires a HomeKit hub for remote access
No video visibility
Smart home integration limited to Apple HomeKit only
Limited keyless entry options
Without fingerprint scanning or number keypad, unlocking can be a hassle (as you may need to pull out your smartphone or a traditional key to unlock)
Product Features
Invisible Design
The invisible design of the Level Smart Lock brings multiple benefits.
Some people have luxury-doors, and smart locks are often criticized for distorting their aesthetics. For this reason, many people hesitate to install smart locks to their doors.
The Level smart lock, which installs seamlessly into your existing deadbolt, is a perfect solution. By installing the device, you ensure that no harm is caused to the beauty of your doors.
Having to buy and install a completely new deadbolt is a complicated process. The invisible design also means that you simply insert a smart device into your existing deadbolt, making the installation extremely easy.
Also, many of us simply don't want a smart lock to be clearly visible to outsiders. The installation of Level Smart Lock into your existing deadbolt means no one sees it from outside.
Auto-Lock/Unlock
Not having the auto-lock/unlock feature kills the very purpose of home automation. On the Level App, you can specify the number of minutes after which the device should automatically lock after the door is closed. The lock also comes with the auto-unlock feature, but you need to program the lock through the mobile app for it to work.
Keyless Entry
The keyless Entry option includes operating through the lock through your android smartphone or iPhone. When you explore other smart locks in the market, you'll find plenty of devices with more than one keyless entry. Hence, this is where the Level Smart Lock clearly lacks.
Voice Control
You can also lock/unlock the Level Smart Lock using voice control by pairing it with Apple HomeKit and using Siri. When it comes to smart home integrations for automating the functions, HomeKit is the only option.
There's no mention of compatibility with popular integrations such as with Google Assistant and Amazon Alexa. This is indeed a critical drawback.
Remote Access
You can remotely monitor and control the Level Smart Lock, as well as utilize lock/unlock automation. However, you need a HomeKit Hub to be able to do that. This, again, is a big limitation as many new smart locks come with an in-built W-Fi.
Activity Log
Other than the Level Smart Lock, you won't find an invisible lock that stores an activity log and allows you to check the history to track all activity that happens around your front door. If something gets stolen from your house, you can quickly go through the activity history to find out who came and went at the time you suspect the item was stolen.
Receive Notifications
If you're the head of your family, you may want to know whether your loved ones safely arrived home or not.
You may also want to be notified when your friends arrive for some reason quickly. All this is made possible by the Level Smart Lock that sends you relevant notifications right on your smartphone.
Likewise, how often do your devices stop working just because you forgot to replace the batteries on time? This is no longer a problem with the Level Smart Lock – it notifies you when it's time to change the batteries.
Lock/Unlock Audio Confirmations
The audio confirmation is an amazing feature that allows the lock to let out a chime whenever you attempt to lock or unlock the device. This means the lock renders no room for mistakes when it comes to home security.
Party Pass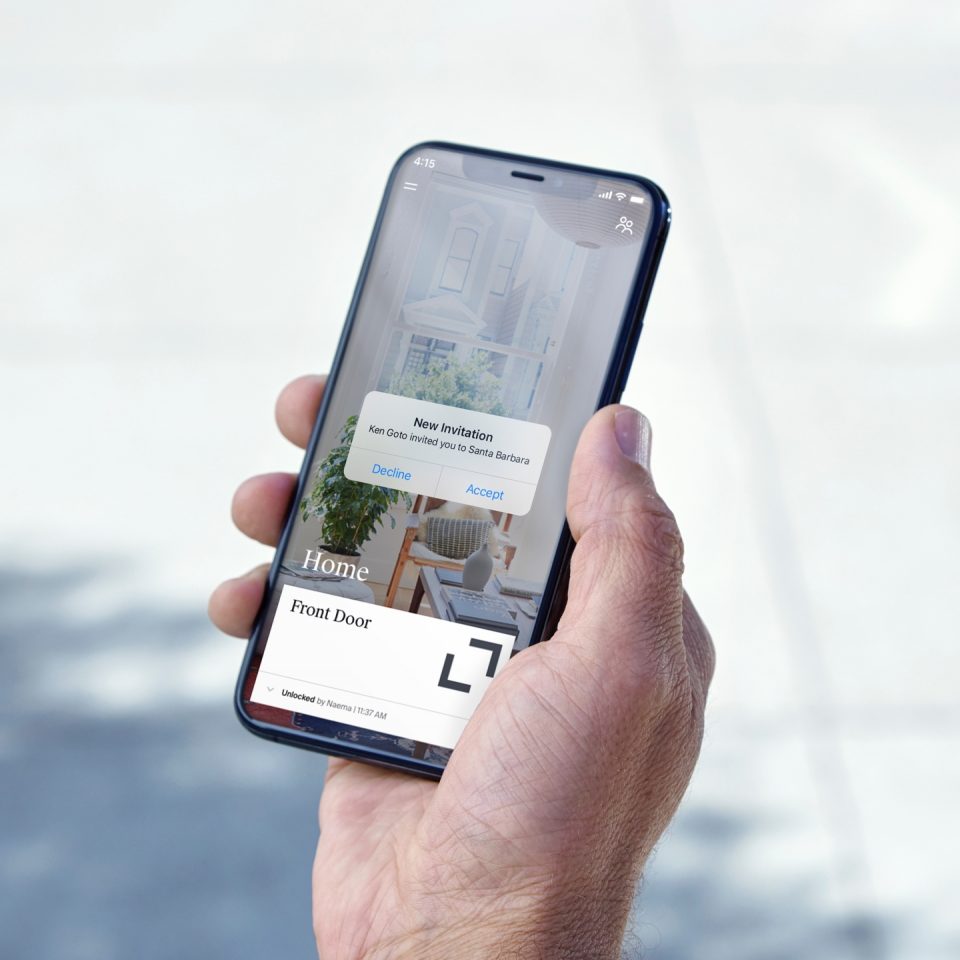 Unlike other smart locks, the Level Smart Lock allows you to welcome your family and friends in a unique way. You can send group invites to people through the Level App.
Your prospective guests receive the invite right on their smartphone, and they can accept or decline the invitation. You can grant them access through the mobile app, receiving notifications on your phone as soon as they arrive.
Our Take
While the Level Smart Lock does come with some unique features, you need to take into account the feedback from actual users from our team who have spent weeks testing out the lock.
Here is what they said about the lock:
Martha said that the Level Smart Lock is an awesome smart home solution when it comes to updating your existing door lock. The user also highlighted the ease of installation of the lock. The entire process took her less than 15 minutes.
Another member (Tessa) was pleased with the efficiency and discreetness of the smart lock. She recommends it to everyone else. Likewise, another user expressed that after installing this lock, she feels safe with his family at home. Based on her feedback, the lock should easily last for years.
Furthermore, a user explains that most smart locks come with their own hardware, requiring you to replace the entire deadbolt. They were looking for a smart lock that turns their existing deadbolt "smart," which has been made possible with the Level Smart Lock. Another user highlighted the same feature, adding that your previous keys can be used to operate the new lock.
Finally, another user expressed that he always wanted an invisible smart lock that doesn't explicitly reveal itself to the people outside.
Level Smart Lock Installation
Here are the steps you should follow to install the Level Smart Lock inside your door.
Disassemble your lock.
Install the Level Lock.
Reassemble your lock using the original process.
Install your Level strike plate.
Activate your Level Lock.
Here is the link to a video for your reference.
Keep in mind that the Level Lock can be installed on standard deadbolts but not on Mortise Locks.
Final Verdict: Level Smart Lock Review
Smart home security is an ever-mounting concern, making smart locks popular among the growing list of home automation products.
Until the launch of Level Smart lock, most smart locks required you to replace the entire deadbolt. Designed to install into your existing deadbolt, the Level Smart Lock is the first-ever "invisible" smart lock.
You can control the Level lock through your smartphone, set up the auto-lock/unlock feature, send scheduled invitations and access to friends and family, receive entry/exit notifications, and more, through your Level Smart Lock.
We hope you enjoyed our Level Smart Lock Review and learned everything you need to know about the incredible invisible lock.
Best Smart Lock For Airbnb 2023
Halo Touch Smart Lock Review 2023