If you're looking to buy the most advanced smart lock in the market, make sure you go through our Lockly Vision Review.
One of the most awaited annual events, the Consumer Electronics Show (CES), unveils new technology every year. Thousands of curious individuals gathered at CES 2023 in Las Vegas, Nevada, to discover innovative tech gadgets for just about every task. This year, the smart home category features some of the best new products.
In the smart home tech category, the smart lock that stood out was Lockly Vision. This time around, Lockly proved it has what it takes to stand out in the dynamic smart lock market. It has been pioneering control, access, and versatility in smart locks and property tech cloud services. Finally, after decades of successful international high-tech development and manufacturing experience, Lockly has its own global innovative product portfolio.
Producing the most advanced smart locks with unmatched door entry capabilities, Lockly is dedicated to providing feasible solutions to homeowners, builders, smart hotels, and smart rentals. While Lockly didn't pioneer the idea of smart locks but has managed to introduce incredible products with cutting-edge features such as the 3D biometric fingerprint scanner and PIN Genie technology.
Here is our Lockly Vision Review, a comprehensive look at Lockly's most recently developed product that was featured at the CES 2023.
Product Overview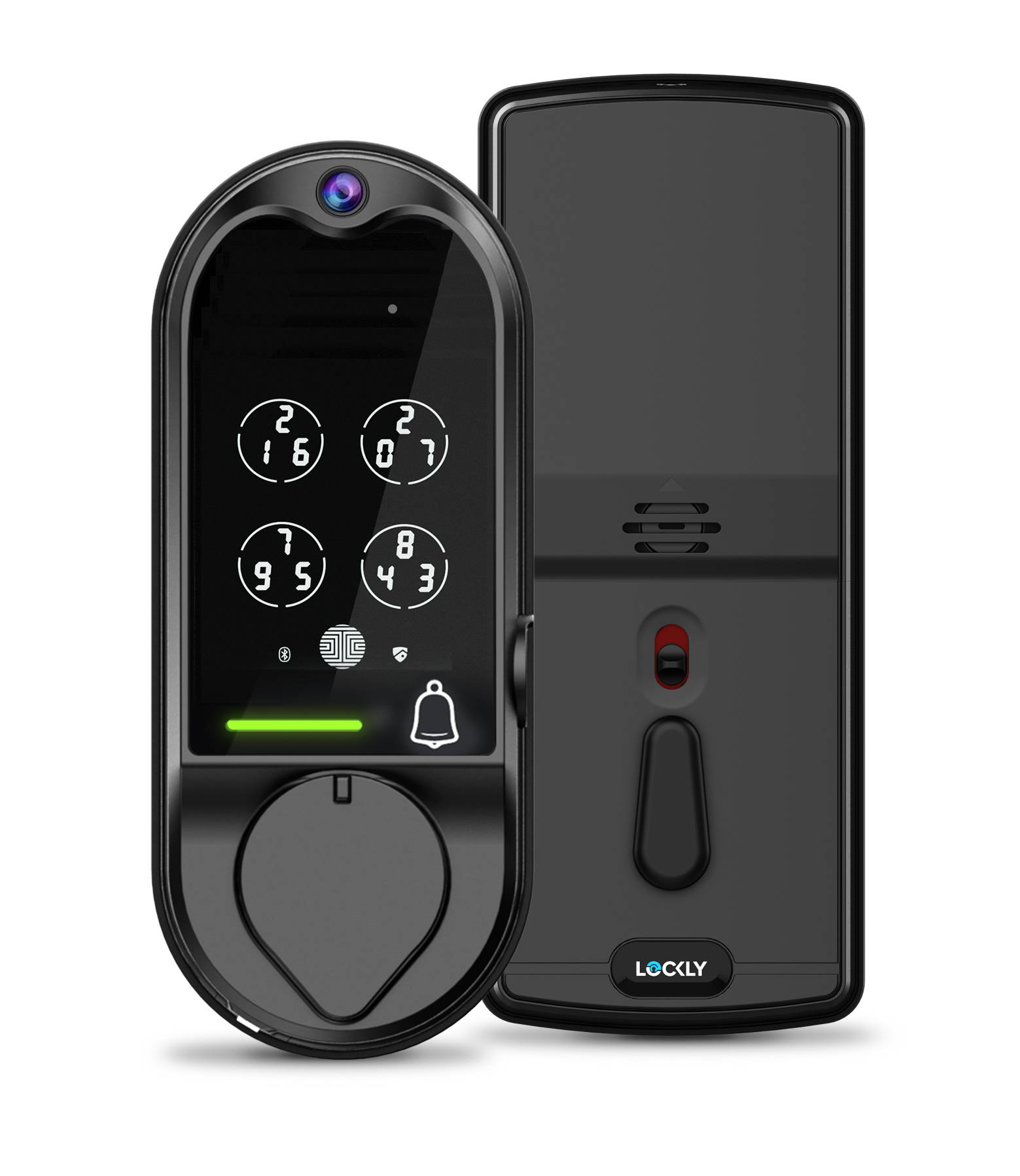 After the Lockly Secure Pro Smart Lock, the newest Lockly product is Lockly Vision.
As the term "vision" suggests, the smart lock has a built-in video doorbell. Along with this incredible feature adding security and convenience, Lockly Vision possesses all the technology and features of the previous Secure Pro model.
Lockly's CEO, Lee Zheng pointed out that users were not happy with other doorbell mounted cameras. Some products would have incompatibility issues with household wiring, while others weren't mounted at the right angle such as being too low. He explained how the brand tapped this gap in the market, combining a high-tech smart lock with an HD camera that captures video right in front of the door. It's a truly wireless solution providing 5 different entry modes.
The security features seen in Lockly Vision are particularly aimed at providing homeowners and property rental managers to ensure maximum possible security for their properties, safeguarding them from unsolicited visitors, thieves, burglars, etc. Owners can easily identify who is at the doorstep before granting them access.
To address emergency scenarios, the lock comes with a physical key. Despite the level of sophistication featured by the Lockly Vision, it takes not more than 15 minutes to install it using the tools you probably already have.
The product comes in two color variations: Matte Black and Satin Nickel. According to the company, the product should start selling this summer.
Pros
Real-time video at a perfect angle
5-in-1 access modes
Sends tempering alerts
Compatible with standard household wiring
Offers unmatched control over the lock
Provides remote access
Allows integrations with smart home apps such as Alexa and Google Assistant
Allows you to communicate with visitors
Stores conversation recordings
Cons
–
Product Features
HD Video Camera
Through the Lockly app, you're able to access the live view from its real-time video at any time. Whenever a visitor approaches your door, the camera intelligently starts recording HD video.
This is helpful whether you're at home or away. Regardless of your location, you'll be able to view who exactly is standing at your front door.
2-Way Audio
Suppose you're away and some guests approached the front door to meet you. The remarkable 2-way audio feature allows you to tell them that you aren't currently at home and it will take time before you arrive. You may want to inform the visitor that you're on your way back and will arrive shortly so that they don't leave. If you can trust the person, you may also grant them entry through remote access or by sharing a temporary offline code.
If you think about it, there are so many other benefits of the 2-way audio. For instance, you can use to tell the Amazon delivery agent to hide the package behind the plant.
Remote Access
With the companion app or voice control through smart home apps, you can control the Lockly Vision smart lock from absolutely anywhere. On top of that, every time anyone tries to temper the smart lock, the product immediately notifies you on the smartphone.
Advanced 3D Fingerprint Scanner
If you don't wish to pull out your smartphone to enter your home, don't worry; the Lockly Vision has you covered.
You can simply register your fingerprint in the lock so that you just have to put your finger on the highly efficient 3D fingerprint scanner to unlock the door. Its advanced scanning features won't create any detection problems for you.
The 3D fingerprint scanner is capable of storing around 99 fingerprints, relying on touch rather than image scanning. Taking security to the next level, the scanner isn't vulnerable to replicated images or fingerprints. It won't unlock unless a physical match is achieved.
Internal SD and Cloud-Based Storage
The lock also comes with an internal SD as well as cloud storage that saves video and conversation recordings for you to review them later. This way, you can find out who came to meet you when you were away and identify anyone who tried to temper the lock.
PIN Genie Touch screen
Lockly Vision's PIN Genie Touch Screen is the name given to its easy-to-use keypad. You'll be impressed by how it moves the numbers around when you enter the passcode. This makes it impossible for anyone to memorize the code as you enter it. This feature, along with the lock's OLED screen, marks one of the biggest differences between Lockly Vision and the competition.
The lock generates multiple passcodes that don't require an internet connection to grant entry to users. Besides, if you program the keypad to the "do not disturb" mode, the lock will only allow entry through a physical key. Besides, the lock offers the auto-lock feature, which automatically locks after a pre-specified time has passed after a user passes through.
Also, the access codes can be changed or new temporary access codes can be created via the mobile app. This allows for tremendous user management, allowing you to stay on top of who enters and exits your front door and grant temporary access to guests. The temporary codes or eKeys can be set for one-time use or programmed to work at specified times only.
Smart Home Integrations
As you head into the future, you just can't do without smart home integrations. Keeping that in mind, the Lockly Vision smart lock connects with smart home platforms such as Alexa, Google Home, and Apple HomeKit.
Media Reviews
Let's now go through the reviews flowing out of the most reliable media:
Digital Trends
Digital Trends is among the most popular technology information, news, and lifestyle website that publishes reviews, guides, news, podcasts, how-to articles, and descriptive videos about consumer electronics and technology.
Considering Lockly Vision's five different entry access options and home security, the platform states that "The potential of Lockly Vision is truly limitless and ensures that users have ultimate control over who comes and goes".
Android Authority
Android Authority is the largest independent publication influencing an audience of 50 million every month. Dedicated to the world's most widely used high-tech gadgets, its publications attract technology enthusiasts, savvy millennials, and industry professionals from around the globe.
Impressed by the inventive twists seen in Lockly Vision smart lock, particularly the built-in doorbell camera and the fingerprint scanner, Android Authority recommends "Just buy this device and you're all set".
CE Pro
Published and distributed every month, the CE Pro magazine was the first publication to cover the home systems integrator channel. Regarded as the best publication in the category, CE Pro targets stakeholders of the technology-related products, covering a gamut of electronic systems.
The magazine recognizes Lockly Vision as the "Security and Surveillance Product of the Year".
Final Verdict: Lockly Vision Review
If the features perform as claimed by the brand, the Lockly Vision can certainly prove a big step forward in smart-home security. After all, there's a reason why it has topped the smart home tech at CES this year.
Plus, authentic publications like Digital Trends, CE Pro, and Android Authority won't just give positive reviews without proper inspection.
The smart lock certainly appears as a reliable home security solution for 2023. However, if the real-time video, 2-way audio, and other additions are rife with holes, it will merely be another little step giving a lot of room to other smart lock players in the industry.
We hope you enjoyed our Lockly Vision Review. If you're worried about your home security and are looking to replace your front door lock with a more reliable one, Lockly Vision is the best choice to consider.
To get a clearer idea of how it looks and is operated, check the most recent videos on YouTube. You need not be worried about the installation process either; it takes just 15 minutes to install.