Here are the top five home security systems for pet owners that have been thoroughly tried and tested.
What is the Need for a Pet-Friendly Home Security System?
Alarm systems defer 60% of burglars looking for potential targets. This was highlighted in a study by the University of North Carolina at Charlotte Department of Criminal Justice & Criminology. However, if you're a pet owner, having a home security system means a lot of false alarms. Active motion detectors are regularly set off by pets roaming around the house.
According to Statista, 89.7 million dogs were kept as pets in the United States in 2017. This is an increase of 20 million dogs since 2000, when only 68 million dogs were kept as pets.
I myself own a dachshund who has tripped up his fair share of alarms. Statista also points out that 95.6 million cats were kept as pets in the US since 2017. However, that doesn't include the number of parrots, snakes, iguanas, rabbits, hamsters, etc. that Americans keep as pets.
According to the National Pet Owners Survey by the American Pet Products Association (APPA), 85 million American families own pets.
So, home security for pet owners needs to be smarter to avoid false alarms triggered by all those pets. Here are 5 great pet owner home security systems.
Top 5 Home Security Systems for Pet Owners List
Vivint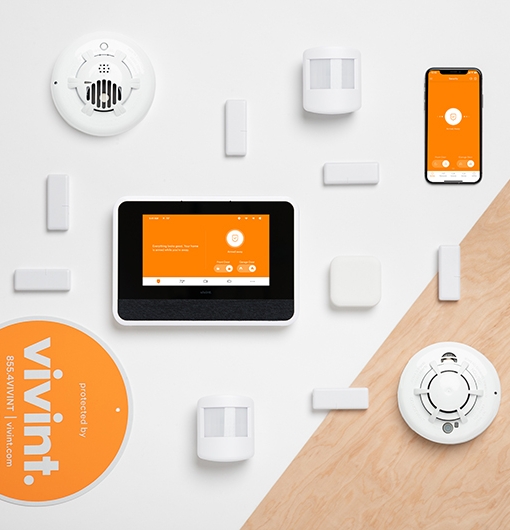 Vivint's home security system comes with free installation.
The technicians can calibrate everything from pet immunity and sensitivity. This depends on how big and how excitable your pet is. So, no matter how excited your dog is, during the night, you can rest assured it won't trip the alarm. That goes for your cats too.
It's nearly the perfect solution for pet owner home security systems.
Vivint's security system includes a mobile app that we continuously used to monitor our dachshund's trips to the home. We even use it to talk to him while he's playing in the yard.
Vivint's best feature is undoubtedly its smart hub. It's got a touchscreen interface to arm and disarm the system. It also has thermostat, light, and camera controls.
Vivint also allows you to go for a monthly or long-term contract. The catch is that for a financed system, you have to sign a long-term contract whether you like it or not. Still, you have the choice to test it out before you make a final decision, at least.
The bells and whistles don't stop there. Vivint allows integration with any of the major voice assistants out there including Google Assistant, Siri, and Alexa. Cellular backup also exists in case your internet connection is knocked out.
Vivint's negatives aren't too many to count. They have you sign a five-year contract for financed systems and charge a higher equipment cost than other options. They also charge extra for cloud storage for security cameras. There's also an early termination fee as well as a moving fee.
If you can stand the expenses however, Vivint delivers an excellent home security experience for pet owners.
SimpliSafe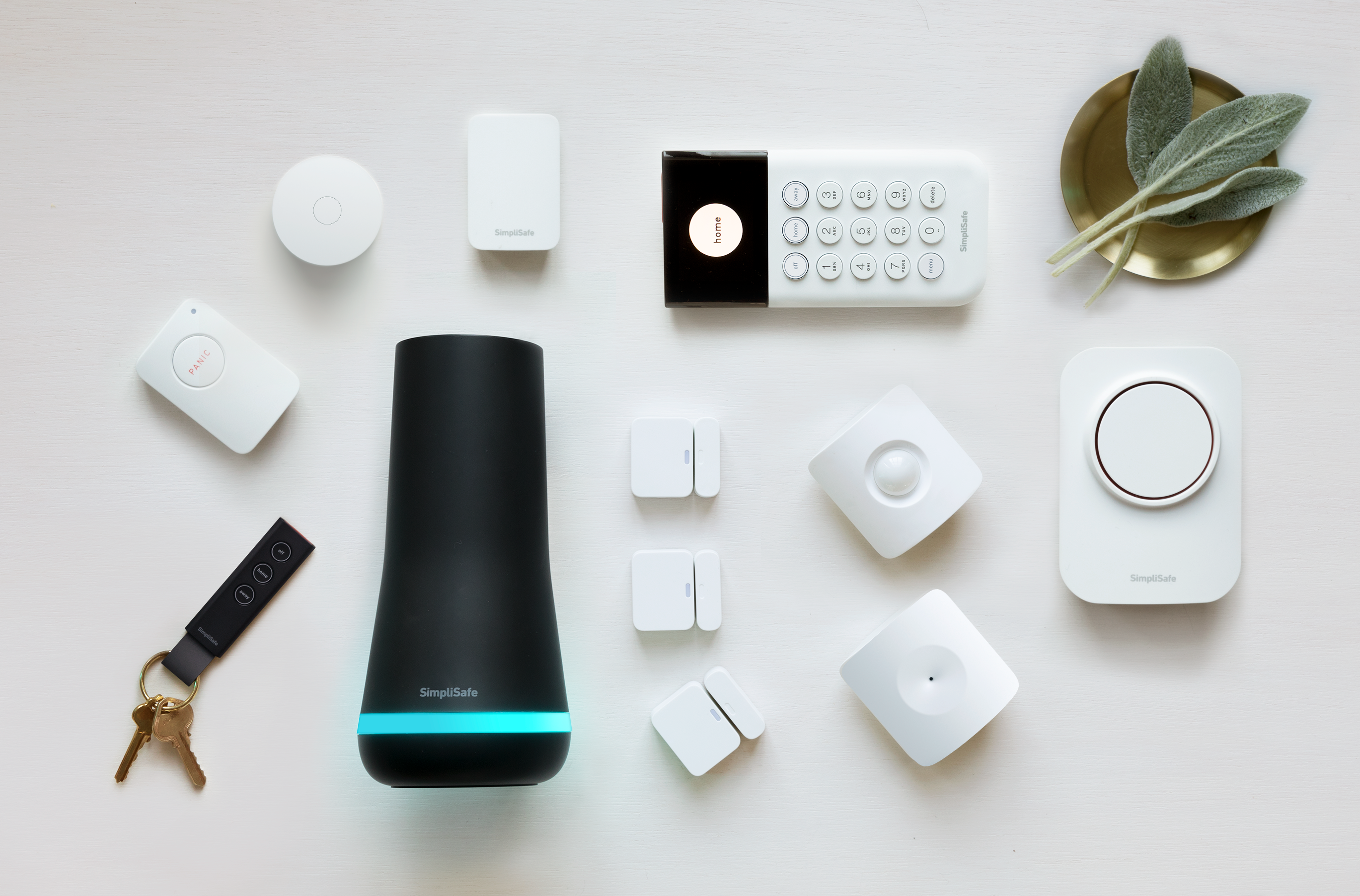 SimpliSafe is perhaps the best option on this list from a price perspective. This option features monthly contracts with affordable monthly fees. It also includes an easy DIY installation. You don't need to pay for an expensive professional install and can set it up yourself.
It does come with at least one pet-friendly motion sensor. It ignores pets that are 0 to 25 pounds. So we didn't have to worry about our dog setting it off. However, large cats and large dogs can be a problem.
If you have a Labrador or a golden retriever, you'll need to mount it four or five feet above the ground.
There are some clear positives here like the SimpliCam indoor camera. The monitoring center uses the feed to verify alerts. This is very handy in case of a fire or carbon monoxide leaks. It helps to speed up emergency responses.
As for clear negatives, there's a lot to criticize. There's a limited catalog of security camera equipment as well as smart home equipment. Also, an upfront payment for the purchase of equipment is required.
Pet-related false alarms can be a problem when it comes to an indoor camera. All of that is forgivable. However, the one negative that can become a problem is that SimpliSafe can work as a local alarm without a monitoring subscription.
ADT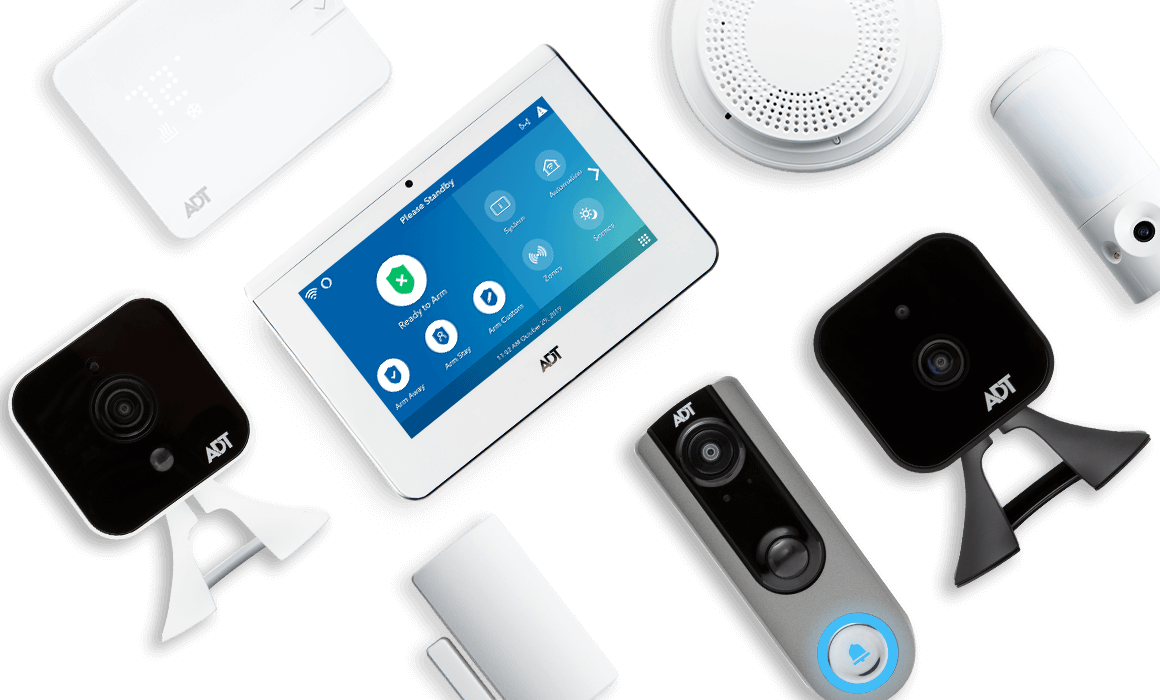 ADT (American District Telegraph) home security system includes "professional monitoring" and cellular backup. They also offer a smart platform and security camera integration.
The company has been in operation for 140 years, so their products are tried and tested. However, they're a little pricier than the other options on this list and have a three-year monitoring agreement.
They also have a high installation fee and an early cancellation fee.
The price aside, ADT does give you your money's worth.
My dachshund is a pretty rowdy dog, but he hasn't tripped the alarm once with ADT. They give you the option of positioning sensors higher than normal to avoid picking up floor movements too.
We had the technician who was installing the system customize the sensitivity of the sensors for our dog too. Just in case he jumps up and down near the sensor, it won't go off now.
Bells and whistles include environmental sensors for carbon monoxide and fire detection, smart thermostat controls, etc. ADT's monitoring centers even maintain connections during a power outage, or a landline or internet failure.
Frontpoint
Frontpoint gives customers plenty of packages to choose from. It also offers monthly contracts. Frontpoint also offers all-inclusive professional monitoring, including burglary, fire, medical emergencies, etc.
By default, Frontpoint's sensors are immune to pets under 40 pounds. For small dog and cat owners, that's a relief. However, the company still recommends that you place the sensors away from shelves and from any furniture. This is to prevent false alarms that pets may trigger by jumping on shelves, and sofas, and chairs.
If you have large dogs, the company recommends that you limit the use of motion sensors in places not frequented. Note that there aren't many options to tweak sensitivity so large-dog owners may need to search somewhere else.
Negatives included for Frontpoint include higher monthly rates than other options.
They also charge extra for the use of security cameras. There's no one-time purchase either. You have to pay higher monthly fees than the competition. You also don't have an option to self-monitor. This may be a deal-breaker for some. Not being able to see what's going on in your own home defeats the purpose of a home security system.
There are also no smart home security system components included in the lowest tier. You need to pay extra to get them.
If you can live without those bells and whistles, this company may be the best fit for you. However, for those that want cheap, smart functionality, this element may be a deal-breaker.
Ring Alarm
Ring Alarm offers you a lot of choices. It gives you the option of monthly or annual plans and contracts. It also has great integration with Ring cameras and video doorbells. It also requires very little technical know-how to install.
Ring Alarm's sensors are very sensitive to movement. So even if you have a small pet like a kitten or a pup, you may get a lot of false alarms without some tweaking.
However, there's an app that Ring offers which you can use to tweak the sensitivity. Medium settings ignore pets less than 30 pounds.
At the lowest settings, pets lighter than 50 pounds can be ignored. Over that weight, Ring recommends that you put sensors in places where your pets don't normally go.
Easily Ring's best feature is the security camera it offers. It has an indoor camera, a lot of outdoor and doorbell cameras, and live feed. You also get 60 days of cloud storage for unlimited cameras for the basic tier. Traditional alarm companies charge well over 3 times the amount to give you cloud storage.
The clear negatives with Ring Alarm though, are too numerous to ignore.
They only offer third-party smart locks. Hence, you're not getting premium products for your money. They also don't offer cellular backup without professional monitoring services.
Ring Alarm also has a history of privacy concerns. Finally, there's no native app control for the devices that Ring Alarm provides, besides smart locks. Hence, any cameras, that you put up can't be controlled through smartphones.
Conclusion: Pet-Friendly Home Security Systems
These are some of the best options for home security for pet owners. You can choose depending on your budget and your desire for privacy as well as the weight of your pets.
Related Questions
Can a Mouse Trigger a Motion Sensor? Motion sensors that are made to ignore pets can be tweaked to ignore movements below a certain weight. Hence, those sensors won't be triggered by mice.
Can Barking Dogs Set Off Glass Break Sensors? Glass break sensors can be activated by a certain decibel level of noise. Some dogs can set off glass break sensors by barking. Hard surfaces like those made of hardwood can amplify barking noises and set off glass break sensors.
How do Motion Sensors Work with Pets? Active motion sensors detect movement and can be set off when a pet enters the coverage area. However, passive motion sensors ignore movements caused by animals. They can be tweaked to ignore the movements of pets that are in a certain weight class (50 pounds, 80 pounds, etc.).
25 Common Home Security Mistakes to Avoid