If you start looking for companies that can provide security monitoring for your home, you will come across at least several of them. Two of which are ADT and Deep Sentinel.
In this article, I will be comparing Deep Sentinel and ADT in order to see what the advantages and disadvantages of each company are.
Deep Sentinel and ADT both offer quality security systems for homeowners. The main difference between Deep Sentinel and ADT is that Deep Sentinel specializes in outdoor cameras only and has a more proactive monitoring approach. In comparison, ADT offers more smart home security products but lacks in customer support.
I did my research, and I know how difficult it is to find the right information online nowadays. Below I have provided all the information in a very synthesized and easy to digest manner in the hope of helping you out with your decision.
Deep Sentinel vs ADT: Comparison
Customization
Unfortunately, Deep Sentinel does not offer a lot of customizability. Currently, you can choose from one, three, and six camera setups.
These pre-built packages are pretty basic and do not differ much in terms of what you get—the only difference is the number of cameras you get.
Of course, if you need a different number of cameras, you can use the build-your-own package to specify how many cameras you need (You can choose from 1 up to 6 cameras, and how you will be paying for your monitoring subscription.)
Regardless of how many cameras you buy, you will always receive the standard Deep Sentinel surveillance package which includes:
The main smart hub with the AI processor.
Rechargeable batteries for the cameras. (Usually, all packages come with one extra battery.)
Camera mounting screws.
A yard sign.
and an installation kit.
There are some extras you can purchase separately like, batteries with better capacity, solar-powered cameras, wireless signal extenders, and more.
ADT, on the other hand, offers a significantly more extensive array of products.
You will be able to find not just cameras but also many other smart home gadgets like smart locks, CO and smoke detectors, video doorbells and indoor cameras, smart lights, thermostats, and even a garage door controller.
Right from the beginning, as you can see, ADT offers a lot of different products. ADT offers a few pre-built setups, but you can also build your own setup.
Blue by ADT is ADT's DIY product line, which is also very versatile and easy to use.
Security Features and Monitoring
Deep Sentinel offers 24/7 monitoring, which is a combination of AI and human surveillance.
The camera stream goes through the AI, which helps in determining if there is a threat. This happens within seconds, and if a potential threat is detected, the stream is redirected to a live guard.
After the guard reviews the situation, they can engage the potential criminal through the audio interface. (Each camera has 2-way speakers and mics.) This will deter criminals from breaking in or stealing anything in your home in most cases; however, if that does not help, the guards are going to contact the police immediately.
The AI seems like a good marketing gimmick, which is used way too much and can be used to refer to even very basic camera functions. So it is hard to say the extent of its usefulness, but nonetheless, there is some great potential in it.
According to Deep Sentinel, the guard can engage the potential intruder in as little as 5 to 30 seconds and contact the police if necessary.
As you can see, Deep Sentinel is a pretty basic security system that covers mainly camera surveillance. (Right now, they do not offer anything else besides security camera monitoring.)
If you are looking for a fully-fledged smart home security solution that includes video doorbells, smoke sensors, smart locks, etc., Deep Sentinel is not for you.
Blue by ADT offers 24/7 professional monitoring services and self-monitoring services (on their DIY kit). Self-monitoring is the most basic way to keep track of what happens at your home; it is completely free but severely limited in terms of capabilities.
Professional monitoring, on the other hand, works much like other monitoring services. When the alarm has been triggered, an ADT trained employee will try to reach you on the phone numbers you have provided. If they cannot establish contact with you, they will immediately reach out to your local authorities.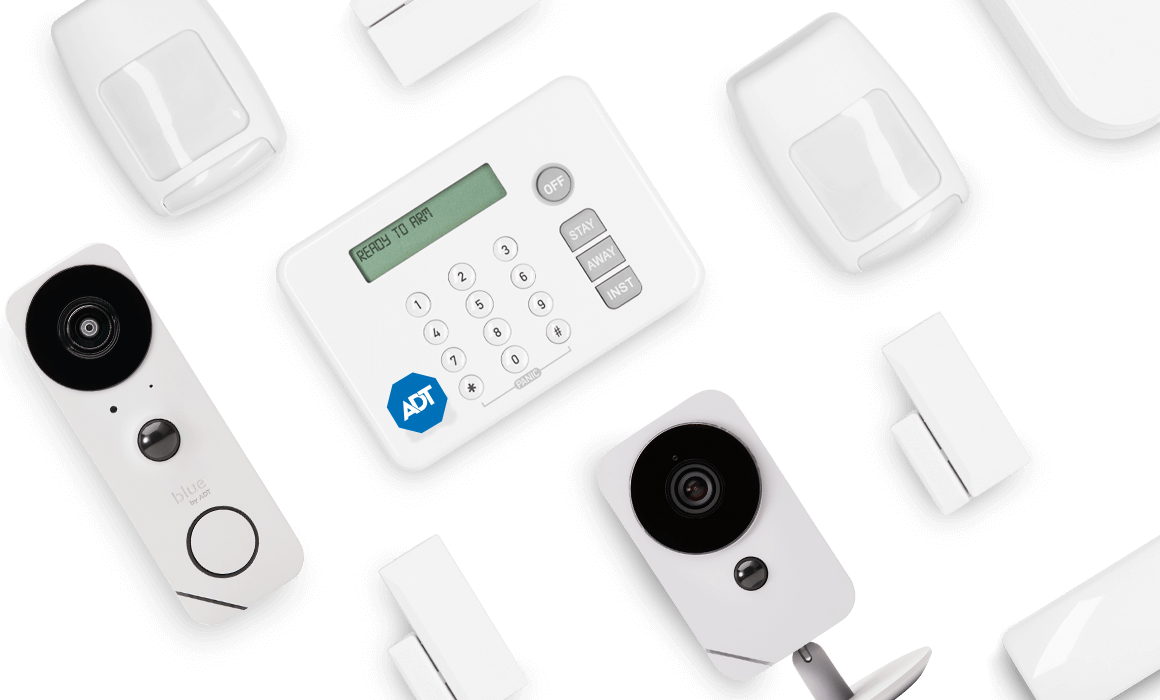 Contracts and Subscriptions
You probably know that all of these security devices and systems usually come with some kind of a subscription plan. I cannot stress enough on how important the pricing and the fine print are.
Both ADT and Deep Sentinel starting packages are priced very similarly. Deep Sentinel starts at $60 per month.
The $60 subscription of Deep Sentinel covers the monitoring of one camera. The price will increase if you order more cameras. For each additional camera, an extra $20 is paid.
One of the disadvantages, however, is that you have to sign a one year contract with Deep Sentinel. However, you have a few different options when signing the contract:
If you pay for the full year subscription in advance, you get two months for free—in other words, you are paying the upfront cost for the security devices and ten months of the subscription, but you get a 12-month monitoring service.
You can pay the upfront cost of the devices and pay monthly, in which case you do not get any discounts.
Or you can apply for third party financing.
For what you get, the Deep Sentinel monthly subscription fees are relatively high and can be considered a little too expensive. (For a six-camera setup, you will be paying as much as $160 per month.)
The standard ADT monthly monitoring costs start from $36.99 and can reach up to $52.99 per month. The monitoring costs for the DIY package (Blue by ADT) costs $19.99 per month (the best thing about it is that it can be paired on a month by month basis).
One of the disadvantages of ADT's cheaper monitoring plans is that they require a landline to work. The only monitoring plan that does not require a landline is the most expensive one.
Upfront Costs
The upfront costs of Deep Sentinel are notably lower, starting at $399 for the basic one-camera setup. (If you choose to go with the monthly subscription, that is.)
ADT is more expensive. There are installation costs between $99 and $199 and other upfront costs of around $125. (If you choose to go with the 36-month contract.)
The Blue by ADT, on the other hand, starts at $109.19 for the most basic package. (Which does not include any cameras.) Each camera will add about $200 on average to the upfront costs.
Customer Ratings
For good due diligence, it is always mandatory to check on what the customers are saying about the company they are using.
The BBB (Better Business Bureau) rating of ADT is A+; however, the customer ratings do not look very promising. The same thing holds true for ADT's ratings on Trustpilot, where they were pretty low as well.
A company may be offering the best products and gadgets, but its customer support and general business practices are what makes or breaks it for me. It is my belief that the way they treat their customers is as important, if not more, as what they are offering. And this is where ADT seems to fall behind.
I did my research, and there has been a lot of information that is readily available and can be found even online. There is a good number of people that are sharing their poor experience with ADT.
Blue by ADT, on the other hand, seems a lot more well received by the customers.
When it comes to Deep Sentinel, there was no data for it on BBB or Trustpilot. However, I decided to dig a little deeper.
Although the data was very limited on Yelp, Deep Sentinel had an average rating of 4 out of 5 stars (from just a few customer reviews) while ADT had 1 out of 5 stars (from significantly more reviews).
Deep Sentinel or ADT: Which One Is Better?
Whether Deep Sentinel or ADT will be best for you will depend on your requirements and needs.
Deep Sentinel seems to be doing better when it comes to customer support, something that ADT should definitely work on. The high amounts of customer complaints and rants are not very reassuring and promising.
There are a lot of customer complaints about poor sales and business practices. All of this does not work to ADT's advantage, although they have a more complete product line and can offer truly a lot.
Deep Sentinel, on the other hand, is lacking in terms of security products. They have a more proactive security monitoring where their live guards will engage with the intruder in real life and contact the authorities a lot faster. However, Deep Sentinel currently offers security cameras mainly, so if you are looking for a more complete security service, you may need to look for a different company.
With that being said, if you want just a few cameras, Deep Sentinel seems to be the go-to choice, as an alternative to ADT although they are also the more expensive choice.
Average Home Security System Cost