At first, many homeowners that are on the market for home security devices may not think about it. However, as they conduct their research, they will inevitably stumble upon how important it is to know how their security devices work.
If you are reading this, you are probably interested in finding how ADT security systems work and what kind of connection they need to function properly.
Does ADT require a landline? ADT does not always require a landline to work. Certain monitoring plans offered by ADT do require a landline to work; the premium monitoring plan, however, does not require a landline. Blue by ADT works over the wireless and cellular networks and also does not require a landline to work.
However, there are a few caveats that I have found, and I will cover in this article. Regardless if you are looking to remove your landline or just need a more reliable security system, this is an important topic and should not be underestimated.
Does ADT Require Landline to Work?
ADT offers several different monitoring plans with their security systems. Their cost will vary, and so will their capabilities. Most importantly, the monitoring plan you choose to use will determine whether or not you will need to have a landline.
However, the good news is that ADT offers both options.
The basic ADT monitoring plans—Essentials, Essentials Plus, Total Protection, and Total Protection Plus—require a landline to work. The Premium Protection plan (with ADT Pulse) does not require a landline to work as it uses the cellular signal to work.
If you are going with the cheaper monitoring plans, you will need to have a working and reliable landline connection.
If you will be removing the landline in the future or your home simply does not have one, you will have to opt for the premium monitoring plan.
There are, though, other alternatives.
You can use CellGuard, which will allow your hardwired security system to communicate with the company's monitoring center over the cellular network. CellGuard can be used regardless of whether or not you have a landline or plan on removing it in the future.
However, if you have an older ADT system, you may need to have a cellular transmitter installed by an ADT technician.
Is Having a Landline Monitoring Service Worth It?
There are three fundamental ways security systems can work and connect to the monitoring companies or alert you about an alarm. These are:
Wireless connection.
Cellular connection.
Landline connection.
Wireless and cellular connections are increasing in popularity as they are very versatile, safe, and reliable. Oftentimes they are used in combination as a means of providing several layers of security.
They use the internet connection or the cellular network to transmit data and communicate with the monitoring company and alert you of any alarms going off. Notifications, alerts and everything else happens a little faster compared to a landline.
This is the biggest advantage they have going for them. Since they do not rely on any wires, they are a lot harder to tamper with and disable.
Wireless and cellular security systems are capable of better integrating and working together with other smart home gadgets. This allows for a fully automated and customizable security system that will keep your home secure, and you updated as to what happens in your home in real-time.
Furthermore, these security systems are easier to install. The installation process does not involve any demolition work, which makes them more convenient for homeowners. In addition to that, these security systems are easier to relocate and maintain.
The downside to security systems using cellular and wireless connections is that they are highly dependable on the power supply. Thus all devices are oftentimes battery powered. However, if the power is out, a lot of these devices may not be able to provide extended security for more than a day or so.
In addition to that, you need to be sure that the batteries do not ever run out, as this can cause some unexpected complications (like a smart lock locking you outside). If the cellular coverage or wireless signal is weak, you may experience connectivity problems.
And the strength of the signal and its stability and reliability are crucial in having your security system work as intended.
Landline connections are usually cheaper, reliable, and can work independently of electrical supply. Landlines are also less prone to signal interference from nearby radio towers and devices or bad weather.
When an alarm has been triggered, the signal will be carried over the phone line to the ADT's monitoring center. If you happen to be using your phone line at this moment in time, the ADT's security system will take over the line in order to notify the monitoring company.
One of the biggest problems of landline security systems is that they are less secure. A pair of scissors is all an experienced person needs to cut off the signal from your security system and essentially render it useless. (Something that cannot be achieved as easily with a wireless or cellular security system.)
Overall, landline connections are considered obsolete. They are not capable of integrating with newer smart security systems, and in a certain way, it can be said that they are being gradually phased out.
Considering the steady downward trend in the use of landline connections, it is expected that, eventually, all companies may stop offering landline services. Cellular and wireless security systems are considered future proof.
Can You Get ADT Without a Landline?
ADT is among one of the few security monitoring companies that still use landline connection for its monitoring.
However, since more and more homeowners are looking to remove their landline, this only begs the question of whether or not you can get an ADT security system without a landline.
You can use ADT without a landline as long as you go with the Premium monitoring plan or purchase the CellGuard. Blue by ADT can also be used without a landline as it works over the wireless and cellular signals.
Does Blue by ADT Require a Landline?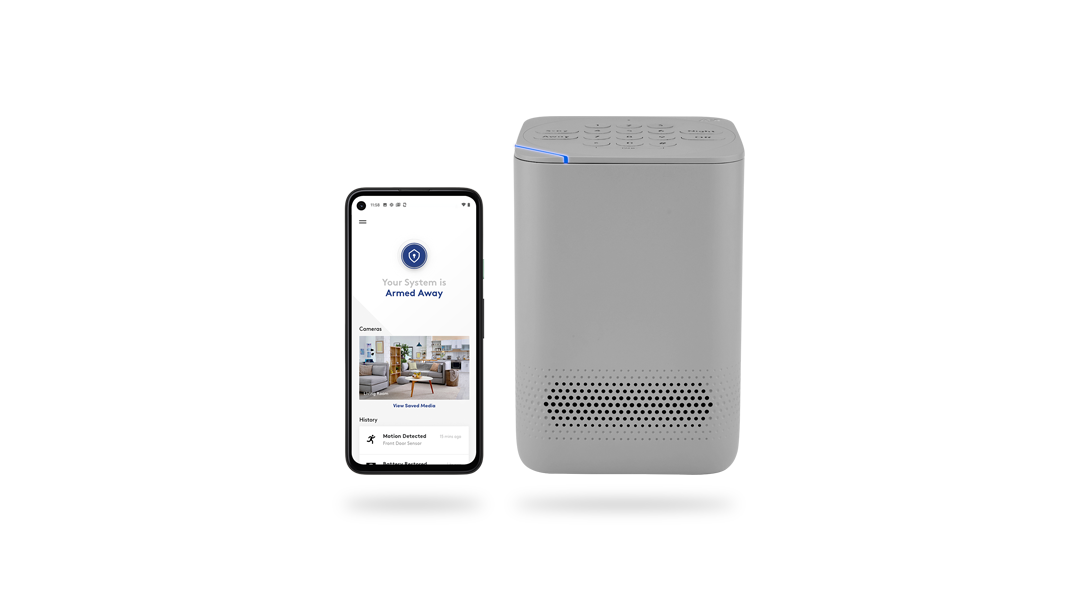 Blue by ADT is the DIY smart home security package by ADT. This DIY kit is very user friendly. Best of all, there are many different gadgets and devices that you can purchase to create a fully-fledged home security system.
The Blue by ADT can be used with two different monitoring plans. The first monitoring plan is the most basic one, which is entirely free—this is the Self-monitoring plan.
The self-monitoring plan requires a wireless connection to work. With it, you rely on the system to do all the monitoring by itself, and if an alarm is triggered, you will be notified over your smart device. For that, to work, you need a reliable and working wireless connection.
The self-monitoring plan requires a wireless connection to work; it does not support cellular or landline connections or backups.
The second monitoring plan is the Professional Monitoring plan, which is a paid service. It offers better protection and more layers of protection. The professional monitoring uses the wireless connection to work; however, if that fails, there is also cellular backup, which is two-fold (you can be notified by a call and by a text message).
Blue by ADT does not require a landline to work. Depending on the monitoring plan Blue by ADT requires at least a working wireless connection to function properly, but it can also use a standard cellular network to work.
What Smart Locks Work With ADT
Average Cost of a Home Security System