DIY home security systems have become extremely popular over the last decade with their wireless technology and easy installation. The concern that most people have with these systems is whether or not they can be hacked, or rather, how easily they can be hacked by someone who wants to bypass the system to gain access to their home.
So, Can ADT be Hacked? Someone with the right technical skills can hack ADT. However, ADT is one of the most challenging security systems to hack. ADT systems use end-to-end S2 encryption with Z-Wave communication, which makes it virtually impossible to hack.
What Is The Most Common Way Hackers Hack Security Systems?
This might surprise you, but the most common way people hack into cameras and security systems is by getting your login details.
The term "hacking" just means unauthorized access to a digital system. So it doesn't need to be an MIT guru or anyone with any technological skills at all if they have your login details.
It's more likely to be your ex-girlfriend or boyfriend, family member, or anyone who knows your common passwords.
Don't use one password for multiple accounts. If one account gets compromised, all your accounts will be compromised. Even writing all your passwords down in a book and keeping it somewhere safe would be better than reusing the same password for everything.
I suggest using a password storage service of your choice. There are so many out there that I couldn't recommend one over another. Just have a look for a well-known password vault service and use them to store all your passwords.
Use Two-Factor-Authentication for logging into your system. This is a security measure that sends you an SMS or email with a one-time-pin to use to log in.
Can ADT Cameras Be Hacked?
Some ADT cameras that use a particular type of DVR (digital video recorder) can be hacked. They will display the word "hacked" as the name of the camera if they've been hacked.
ADT Pulse Cameras cannot be hacked as some DVR type ones can. ADT Pulse cameras are encrypted with a wireless technology known as WPA2.
Nobody, including ADT staff, is able to view your video camera live stream or any stored video footage from your ADT security system.
What To Do If Your ADT Camera Name Changes to "Hacked"
All you'll need to do is update your firmware. This will kick the hackers off and fix up the vulnerability. It is essential to perform firmware updates regularly to stay safe and secure at all times. Make sure to change your passwords frequently as well.
If you notice unusual noises coming from your camera or if it's moving when it shouldn't, you should do a firmware update to make sure you not being hacked.
Another sign of foul play could be the LEDs on the camera lighting up when you did not initiate them to do so.
Make sure you secure your wireless network properly. Also, use your security camera's administrative tools to enable encryption. Just check the manual if you're unsure.
Check up on your system daily to make sure there are no problems and that everything is working how it should be.
ADT Security Systems Use Z-Wave To Prevent Hacking
Z-Wave is more secure than Bluetooth and Wi-Fi and can't be interfered with very easily. Z-Wave uses technology that sends out signals over low-energy radio waves on a dedicated frequency.
With Z-Wave, the more devices you add to the network, the stronger the connection gets.
Z-Wave is encrypted in the same way that online banking is encrypted, so it's very secure, and hacking is pretty much unlikely.
ADT security systems are fully encrypted, with ADT being a company entirely focused on security, you can bet they're not going to release inferior security products to the market and ruin their reputation.
ADT Uses 128-bit Advanced Encryption Standard (AES)
ADT uses SiX two-way wireless technology, which is true 128-bit AES encryption. It operates within a closed network with a dedicated hub for a high level of security to keep your data, video footage, and any other private info safe.
ADT Home Security Camera Privacy Tips
Turn off your internal IP cameras when you do not require them, like throughout the day, if you will be at home anyway.
Turn off remote access when you don't require it.
Before you start using the system, make sure to change all the default passwords and usernames to your own unique ones.
Change your passwords periodically.
Don't use the same passwords for multiple different accounts.
Make sure that your firmware is always up to date.
Signal Jamming Techniques to be aware of
Signal jammers can be purchased that can block off communications of the wireless components of your security system.
You will be notified of signal jams, though, and should check up on your cameras for anyone that may be intruding as soon as you receive the notification.
It's also recommended that you don't put signs and stickers up from the system you purchased. Doing this will help the hackers in knowing which frequencies to jam.
If you really want signboards, put ones up that are of a completely different brand or just ones that mention camera surveillance.
Hacking wireless security systems isn't as easy as the mainstream media make it out to be. Just because some technology experts at a convention did it, doesn't mean that everyone can do it.
Not to mention the guys who hacked the security systems at DEFCON years ago used equipment that costs multiple thousands of dollars. Your average crook isn't running around with this stuff hacking random systems. Don't advertise to everyone which alarm you have, and the robbers won't know which signals to jam.
Over half of burglaries in the US are accomplished by breaking and entering, and most of the others are accomplished by taking advantage of unlocked doors or open windows. The occurrences of homes being robbed by hacking alarm systems are so small that there aren't even any statistics out there on the subject.
Overview Of The ADT Home Security System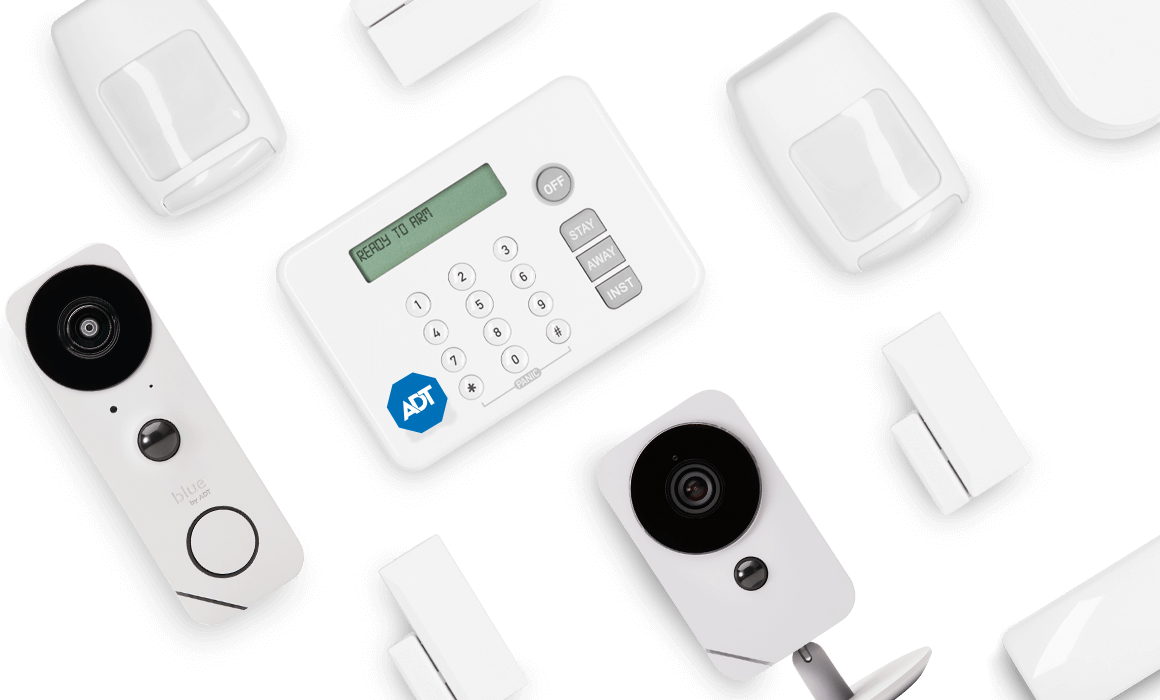 The ADT-monitored security system usually comprises of a Control Panel, One Motion Sensor, Entry Way Sensors, Wireless remote, Backup Battery, Yard Sign, and Window Decals.
Control Panel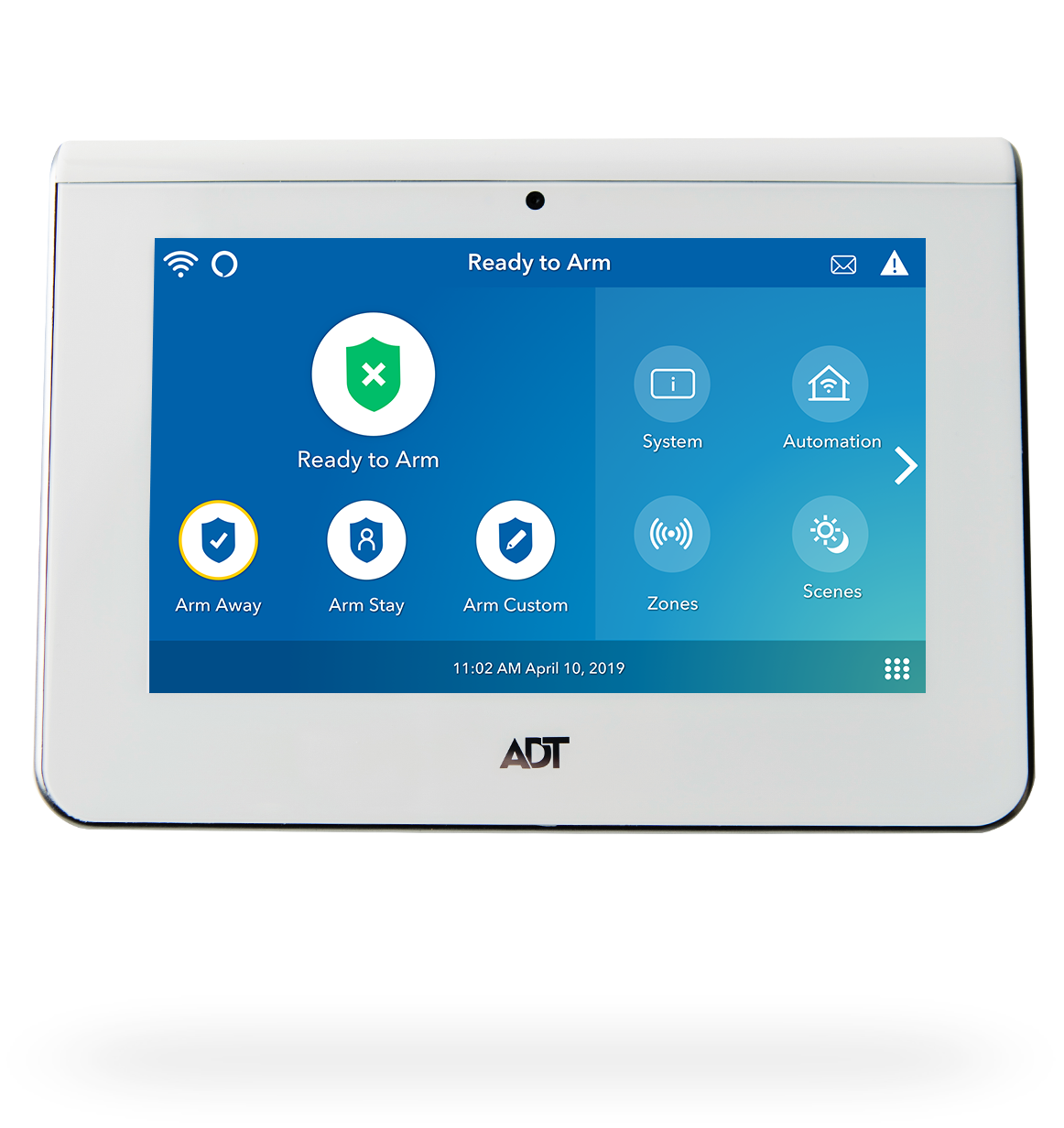 This is where you can arm and disarm the alarm and change all sorts of system settings to your requirements. You can add or remove devices with the control panel or view live camera footage or stored camera footage.
Sensors
The sensors available for the ADT security system are door entry, window entry, garage door, and window break sensors. Motion, carbon monoxide, smoke, and flood detectors are also available.
Cameras and Home Automation
Indoor and outdoor cameras can be added. You can include automated lighting, remote thermostat control, keyless entry, and more.
Conclusion: Can ADT be Hacked?
ADT has been the leader in home security for over 140 years!
They are purely a security company, and their whole reputation is based on whether or not they provide good security systems. That's why they have so many security measures in place for their systems, as explained in this article.
With end-to-end S2 encryption and Z-wave for communications, the ADT home security system is almost impossible to hack.
I personally believe that with all ADT's high security and encryption features, its the best home security option for any homeowner.
The monitoring center is of the best with excellent support, even if you just want to phone in and ask questions.
The monitoring center service is a bit higher priced than other monitoring center services. Still, it's definitely worth the cost when you take into account the high level of expertise you are getting.
It's important also to understand that if a security system was hacked five years ago, it doesn't mean it will be hacked now. I say this because many other wireless security systems were hacked many years ago when they were still relatively new technology.
The various security companies will always patch up any vulnerabilities as they surface, including ADT.
So if you're reading up about how a particular system has been hacked, make sure the article isn't outdated. Hacking home security systems is way more difficult now than it was 5 to 10 years ago.
Top 7 ADT Alternatives in 2023
What Smart Locks Work With ADT
Top 6 Home Security Systems For Condo