When deciding on which home security system to install, compatibility with voice-controlled virtual assistants is definitely important. You need to know if the security system will work with the virtual assistant that you are already using.
So, Does Vivint Work With Alexa? Yes, Vivint works with Alexa, which means that you can arm the home security system and lock doors with Alexa. You can use Alexa to turn on lights, dim lights, change the temperatures through the thermostat and close the garage door. Controlling lights and thermostats require the Basic Alexa app skill, and everything else requires the Complete skill.
So if you want a smart home security system that's compatible with Alexa, the Vivint system is one of the best options you can go for. To learn more about how to set it all up, read on.
Setting Up Amazon Echo With Vivint
In order to connect your Vivint system to your Amazon Echo, both of them will need to be connected to the same WiFi network.
Switch on your Amazon Echo and give it a moment to start up, while you're waiting, you can make sure that your phone's Bluetooth is switched off.
Go to the Alexa app and select the "Devices" icon.
Now press the "Add Device" icon
Select the "Add Device" option
Select Echo
Choose to skip the Bluetooth set up
Press continue
Press and hold the Action button on your Echo for 6 seconds until an orange light ring appears.
Press continue
Once the Alexa app connects to the Echo, you can go to your phone's WiFi settings and connect to the Amazon network. It will appear as Amazon-??? (The question marks will be random numbers)
After the set up has been completed, you can select continue.
Choose the appropriate WiFi network that you want to connect to the Amazon Alexa device. Any devices that you want to communicate with the Alexa need to be on the same WiFi network.
Select "Connect"
Once the Echo is online, select "Continue."
Setting Up Alexa App Skills For Vivint Smart Home
Open the Amazon Alexa App
Go to the menu and select "Skills."
Do a search for the Vivint Smart Home skill. There are two skills available, as previously mentioned. Enable both skills to have full control of the Vivint Security System.

The complete skill allows you to control the full system with Alexa voice command by starting the command with "Alexa, Ask Vivint…"
The Basic skill allows you to control the lights, door locks, thermostats and cameras without having to say "ask Vivint…:"

Sign in with your Vivint username and password to connect your Vivint Smart Home account to your Amazon account.
At this point, your Amazon Alexa app should be connected to your Vivint Smart Home system. To link up all of the names of devices in your home, say "Alexa, discover my devices" to your Amazon Echo Device.
You will now be able to use all the voice commands listed at the beginning of this article.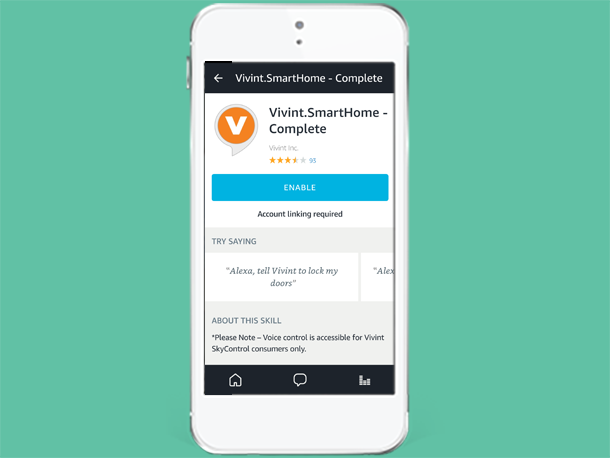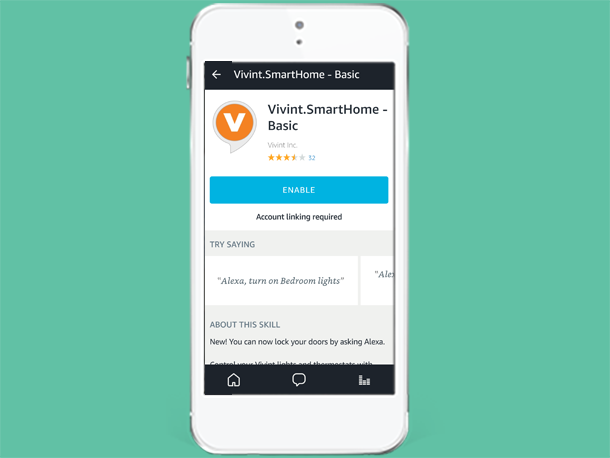 More Ways To Communicate With Vivint Through Alexa
Besides the basic commands mentioned before, you can also communicate with your Vivint System through Alexa in a more natural way.
For example, you can say, "Alexa, tell Vivint I'm going to bed" to have Vivint turn off the lights, lock the doors, arm the security system, and can also turn the thermostat up or down.
Here are some more commands you can try out while using Alexa with your Vivint system.
You can ask Alexa if your front door is locked. You can lock a door if it's not locked. You can ask Alexa to check if all your doors are locked simultaneously.
You can set the temperature in your house to a specific number by saying, "Alexa, set the AC to 73 degrees" You can ask Alexa what the current temperature is and you can also just say "Alexa, increase the temperature by 2 degrees" if you're a bit cold.
You can tell Alexa to close the garage door.
Instruct Alexa to turn your lights on or off. Dim the lights with Alexa voice commands. Whether it's one specific light or a few lights coupled together, you can ask Alexa to switch them on or off or to set the strength of the lighting to a certain percentage if you want. You can also ask Alexa if any specific light is on or off.
Arm the security system when leaving the house or going to bed.
You can even tell Alexa to turn on the coffee machine if you have it connected up.
Ask Alexa to show you different cameras hooked up to your Vivint system. For example, "Alexa, show me my baby's room" or "Alexa, show my outside camera" or "Alexa, show me my doorbell camera" for ultimate convenience when your hands are full.
More About Amazon Alexa Voice Assistant
Alexa is a smart assistant powered by Amazon that gets smarter every day.
Initially, Alexa became popular with users asking general questions like "Alexa, what's the weather going to be like this week?" or "Alexa, what is 500 multiplied by 35?" to which Alexa would reply "Seventeen thousand five hundred."
People use Alexa to play specific music or to tell jokes. With smart home technology becoming more popular, though, we can use Alexa to do a lot more than just tell us a joke or play a certain song.
The Echo device that listens to your instructions uses far-field voice recognition with seven different microphones to hear you properly no matter where you are in the room.
Beam-forming technology combines signals from all the microphones and suppresses noises, other people's voices, and reverberation. The audio is then passed through neural networks based speech recognition to analyze and interpret your requests.
You can still give the Echo device instructions even when music is playing because it uses enhanced noise cancellation technology to cancel out the music and listen to your voice instead.
Alexa, connected up with Vivint, as explained further above, will give you the opportunity to perform a whole range of different things with the power of your voice.
Primary Components Of The Vivint Security System
Control Panel
The control panel is the heart of the Vivint Security System. It allows you to adjust any settings, add and remove devices, control devices, view camera footage, and more.
Motion Sensors
Motion sensors will detect any motion in the area and notify you via the Vivid app on your phone so that you can view the motion occurring or view the live stream of cameras in the motion sensor area.
Cameras
Cameras, of course, let you see exactly what's going on at home when you're not around with the added benefit of being motion sensors at the same time.
Yard Signs
Security system yard signs are great to let criminals know that there are extra hurdles to get over if they want to rob you. In some instances, the yard signs alone will deter the intruders.
Smoke Detectors
Smoke detectors are a vital part of the system to make sure you are aware of any fire hazards that may arise.
While a motion sensor or camera might not pick up the movement of smoke filling your house, the smoke detectors are fine-tuned to detect even the slightest amount of smoke so that you can react to the threat as quickly as possible.
More About Vivint Smart Home Security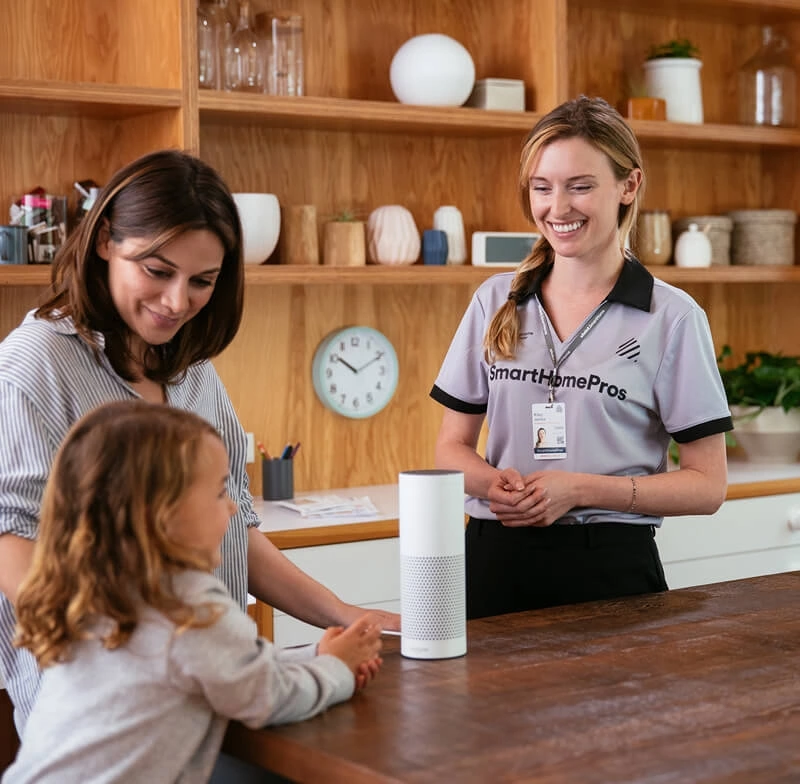 Vivint Smart Home is one of the leading providers of smart home technology. They will actually come out to your place and install all sensors and panels for you.
Their pricing for 24/7 monitoring ranges between $30 and $45 per month, which isn't too bad considering all the support you're going to get from them.
Vivint is always innovating in the smart home security sector with new features like putting an outbound call function on its Ping camera so that family can initiate communication with you as opposed to only being able to initiate communication from the other side of the camera.
Vivint has a range of smart home devices to add to your system at any time, and your room for expansion is virtually unlimited.
Smart Locks That Work With Vivint
Best Home Security System For Condo
Can Alexa Lock and Unlock Doors?
Smart Locks Compatible with Alexa