Smart home manufacturers are always looking for ways to integrate their devices to provide their customers with more functionality and comfort for a smooth hands-free home automation experience.
When looking for a good home security and home automation system, it is only natural to make sure it can work with Google.
If you are here, you have probably already heard of who Vivint and Google are.
So does Vivint work with Google Home? Yes, Vivint does work with Google Home. By integrating your Vivint home security system with Google Home, you will be capable of using your voice to adjust and configure your Vivint home security devices. Vivint is capable of working not only with Google Home but other devices supporting Google Assistant.
During my research, I found that some caveats are worth going over. If you are curious to find out more about to what extent Vivint is currently able to work with Google Home, continue reading below.
How Does Google Home Work?
Google Home is a smart speaker that was intended to compete with Amazon Echo. Google Home is capable of doing a lot thanks to the powerful Google Assistant.
Google Assistant can be used for a whole myriad of different things, and it is responsible for bringing your Google Home to life.
Your Google Home is always listening but will not activate until you say "OK, Google," or "Hey, Google." After you have activated it, you can ask Google Home and Google Assistant to control and operate different smart devices around your home.
But it can do so much more. In reality, Google Assistant can be used to search for information over the internet. It can follow various voice commands, set reminders, alerts, play music, and video. It can also control other smart devices in your home.
One of the strongest points of Google Home is that it is backed by a powerful AI—the Google Assistant.
As the most widely used search engine in the world, Google is capable of delivering some of the best, highly personalized responses and answers to your questions and needs. It is even capable of discerning between the voices of different people to bring a more personalized experience.
Google has a lot in store for us. In the future, Google Assistant will have a broader range of commands and capabilities, becoming almost a true virtual assistant.
What Is Google Nest?
It will not be professional, to omit a few details about Google Nest. It may interest you to know that all of Google's smart speakers (including some other smart home devices) are now going to be under a new moniker—Google Nest.
Some of the products are renamed accordingly; for example, Google Home Hub is now Google Nest Hub, and Google Home Mini is now Google Nest Mini.
Several years ago, in 2014, Google bought Nest. Nest was a company that is known for its cameras and mostly for its thermostats. Many people who are now using a Nest thermostat will be prompted to migrate from Nest to Google.
Unfortunately, many people are also complaining of integration problems with Vivint once they migrate to Google. This causes issues where the Nest thermostat does not appear on the Google Home app but can usually be found through the Vivint app.
What Are the Available Google Smart Speakers?
Currently, there are a few Google Smart speakers that can be found online, Nest Wifi, Nest Mini (2nd Gen), Google Home, and Google Home Max.
Unfortunately, Google Home devices are gradually phased out and replaced by the Nest devices. So if you already have a Google Home smart speaker, this may not affect you; however, if you are looking to buy Google Home speakers right now, you may find yourself severely limited.
How Does Vivint Work?
If you are looking for a company that offers a wide range of different smart home security devices and gadgets, you will like what Vivint has to offer.
We are talking about all kinds of different devices, such as smart locks, doorbell cameras, outdoor cameras, garage door controls, smoker and CO detectors, water sensors, and so much more.
A lot of companies are transitioning to new ways of offering their services. And Vivint did get the memo. To use Vivint security systems, you are not required to sign any long-term contracts (something that was not the case several years ago).
It may interest you to know that the devices supplied by Vivint are proprietary, and they cannot be used with other security systems or providers. This means that once you are no longer using Vivint monitoring services, you will not be able to use their equipment with other security systems and monitoring companies.
But the real question is, how well does Vivint integrate with other smart systems?
If you were interested in whether Vivint works with Apple HomeKit, I would have disappointed you; however, when it comes to Google Home, I have good news. Vivint does work with Google Assistant, and it also works with Google Home.
Back in 2018, Vivint announced that they have started collaborating with Google to make their devices work with Google Assistant and make them voice-controlled. Today Vivint does work with Google Assistant and Google Home, bringing some of the best hands-free smart home security experience.
Do You Need to Make Vivint Work With Google Home?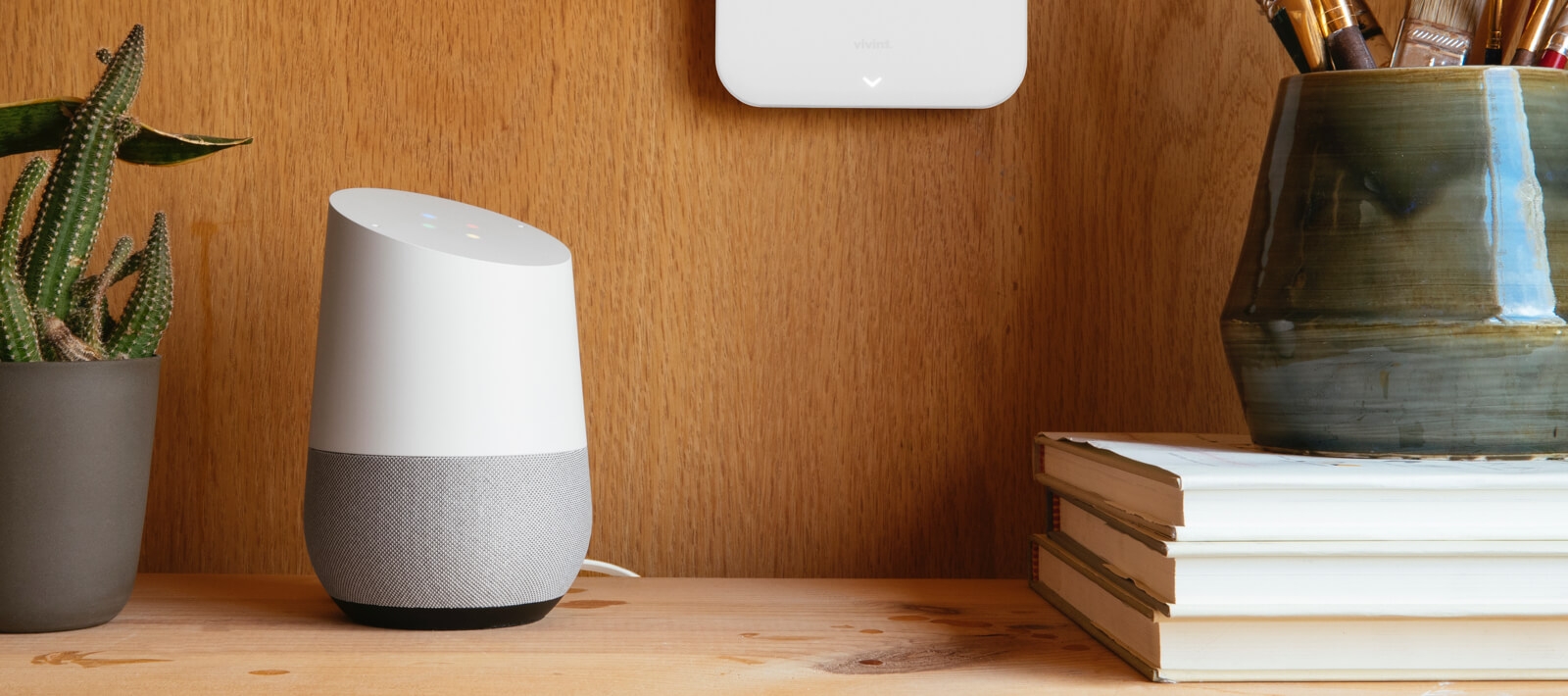 One of the really neat features of Vivint smart security systems is that they work with Google Assistant. After all, when talking to your Google Home, you are, in fact, communicating with Google Assistant.
Here's the thing.
You can use any other device that has Google Assistant. For example, if you have Google Assistant on your phone, you can use the phone to control your Vivint security system instead of using the Google Home speakers.
The good news is that Google Assistant is available on a wide variety of devices like smartphones, laptops. It is even available for your iPhone and Mac.
A neat little demonstration can be seen in this short video.
How to Make Vivint to Work With Google Home
In order to have Google Home work with your Vivint security system, you will need first to integrate them. This is easy to do, and the process is very straightforward.
Go to your Google Home app.
While being on the Home page, press the + icon in the upper left corner.
Press on the Set up a device link.
Look for the Works with Google section and press on the Have something already set up link.
Press on the magnifying glass to open up the search window and search for Vivint.
Press on the Vivint icon and allow it to link with Google Home
You will be prompted for your Vivint credentials. Enter them and press sign in.
Now your Google Home has been linked with your Vivint security system.
You can proceed to assign different devices to different rooms. If there are no rooms created yet, you can press on the Add custom room button on the bottom.
On the Google Home app, you will be able to see which devices have been assigned to which rooms.
You can also use the voice command "Hey Google, sync with Vivint" to automatically have Google Home sync with all your Vivint smart security devices.
Some problems used to occur in the past where Google Home will reply with "Vivint is not available." Although those issues should be resolved, for the most part, it is worth knowing that following the integration steps listed above should prevent such problems.
You need to make sure that Google Assistant and Google Home are disconnected on Vivint's side before adding Vivint through the Google Home app.
What Voice Command Can You Use With Vivint and Google Home?
After integrating Google Home with your Vivint smart home system, you can lock your doors, adjust your thermostat, control the lights, or activate and arm the main panel. (You cannot disarm the main panel for security reasons.)
The whole process is as easy as using your voice. Just say "Hey Google," or "OK, Google," followed by any one of these commands:
open/close the (door name).
set security to arm.
is the light on in (room name)?
turn on/off (room name) camera.
arm security.
make sure the (lock name/door name) is locked/unlocked.
set the thermostat to 75 degrees.
turn (on/off) the (plug name).
did I leave the (light name) on?
is the front door unlocked/locked?
turn (on/off) the lights.
unlock/lock the (door name).
set the (light name) to 50 percent.
turn on/off the camera.
is my (plug name) on?
is the (door name) closed?
show (room name) camera.
arm my system (stay/away).
set the temperature to 75 degrees.
is the (lock name/door name) locked/unlocked?
turn (up/down) the (thermostat name).
is my system armed?
lock my doors.
what's the thermostat set to?
is the (room name/camera name) on?
Also Read
Smart Locks That Work With Vivint