One of the problems many homeowners face today when it comes to smart home security systems is the ease of integration. Many different manufacturers offer different products capable of different things.
So sooner or later, you may find yourself in a situation where you want to integrate different systems. Two popular systems are Vivint and Apple HomeKit.
Does Vivint work with Apple HomeKit? Vivint does not work with Apple HomeKit. Vivint smart home security devices are not compatible with Apple's HomeKit app. However, they can be used with the Vivint Smart Home app, which is available on the App Store and is fully compatible with the majority of Apple's smart devices.
I did my research, and below I share with you more information about how Vivint and Apple HomeKit work and what to expect from them. Best of all, I offer some solutions and alternatives.
How Does Apple HomeKit Work?
One of the downsides—or the advantages, depending on how you look at it—of Apple is that they prefer to remain reasonably isolated, so to speak. Apple has always aimed to provide the best integration between all of their devices. At the same time, they also have been pretty clear that they do not want other brands to easily integrate with and work within their ecosystem.
This inevitably brings some problems with it when it comes to using third party devices with an Apple product.
Apple HomeKit is basically an application—a software framework— you can use on your iPhone. Consider this to be similar to the operating system you have on your smartphone or computer. Through its use, you can configure, control, adjust, automate, and communicate with your smart home devices.
So, in other words, your iPhone can be turned into a universal remote.
And here is where the true beauty of it all lies—there is so much you can do with this app.
You can automate, adjust, and control almost everything in your home, the lighting, the thermostat, the doorbell, the locks, and so much more.
To use a device with the HomeKit, it needs to be HomeKit activated. These devices also come with a QR code. When you scan the QR code with the camera, the smart device will be automatically added to the HomeKit framework. After the HomeKit framework has recognized the device, you can continue with the next steps to fully set it up.
These HomeKit activated devices usually connect with the HomeKit through Wi-Fi, Bluetooth, or through a centralized hub.
How Does Vivint Work?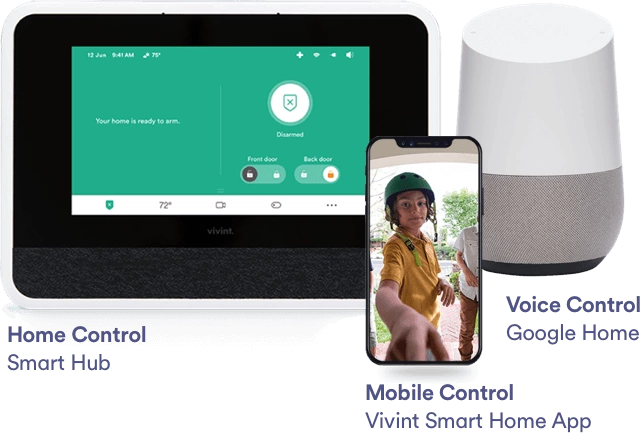 Vivint is one of the more popular smart home security providers on the market. Vivint offers a whole myriad of different smart home security gadgets and equipment that homeowners can use to improve the security of their homes.
Vivint devices are capable of delivering a lot of different security features.
They offer thermostats, garage controllers, indoor and outdoor cameras, smart lighting modules, car GPS trackers, video doorbells, and more.
A few years ago, to start using Vivint, you had to enter into a contract with them; however, today, they are a little more versatile. You are not required to sign a contract and can use them on a month-by-month basis granted you pay for the equipment first. However, if you sign a contract, the equipment is free of charge.
Vivint currently offers three different monitoring packages starting at $29.99 and going up to $44.99 per month.
One of the things about Vivint devices and gadgets is that they cannot be used with other systems or by other security providers. This is proprietary equipment that is designed to be used by Vivint and Vivint alone.
Because of that, you can expect Vivint equipment to not integrate well with other systems and platforms. And as it stands, this is the case when it comes to Apple HomeKit.
Although Vivint equipment does work with Google Home and Alexa, it is not capable of integrating with the Apple HomeKit in any way. However, things may not be as grim as they look. Let me explain.
Do You Need Vivint to Work With Apple HomeKit?
Apple HomeKit is an app that can be used by Apple users. In other words, if you already have a few Apple smart devices and have an iPhone or an iPad, the odds are you will be using Apple HomeKit to control and manage them.
As it stands, if you are looking to buy Vivint smart home security equipment and want to control both your Apple and Vivint devices from the Apple HomeKit app, you may run into some problems.
This is potentially the only reason why you may want to use Vivint with Apple HomeKit. But do you really need the Vivint security system to work with Apple HomeKit? The answer is no.
Other Smart Home Security Systems That Are Compatible With Apple HomeKit
If we go past what Apple itself can offer in terms of smart security systems and gadgets, there is currently one third-party full-scale security system that is fully compatible with Apple HomeKit—the Honeywell Lyric.
There are also other individual smart home security products that are compatible with Apple HomeKit, like smart thermostats, smart locks and deadbolts, cameras, outdoor sensors, smart outlets, lighting kits, smart alarm clocks, and so much more.
What to Do If You Want to Use Vivint With Apple HomeKit?
As you can see, if you happen to be an Apple user and want to integrate your smart home gadgets with Vivint, it may not be possible to do so, yet. But who is to say that Vivint smart home gadgets may not be able to connect and be used with Apple's HomeKit in the future? We will have to wait and see.
This may sound a little disappointing to Apple users, but not all is lost.
If you have already installed Vivint smart home security devices in your home, instead of trying to use Apple's HomeKit, you can use the Vivint Smart Home app instead, which is available in the App Store for free.
The Vivint Smart Home app is fully compatible with the majority of iPhones, iPads, and even with the iPod Touch. You can also use it on your Apple Watch. To use the Vivint app, you will need iOS 12.1 or watchOS 4.3 or later.
By using the Vivint Smart Home app, you will get the most out of your smart home security devices—you can lock and unlock your doors, monitor who enters or stops by your front door, talk with people who are at your doorstep, adjust the thermostat temperatures and so much more.
And whenever something happens, you will be automatically notified on your smart device.
Of course, you may not be able to use and control your Apple smart home devices through the Vivint Smart Home app.
This may seem like a huge inconvenience—you will need to use the Vivint Smart Home app for the Vivint devices and the Apple HomeKit app for the Apple devices.
Conversely, some Apple devices may potentially be used with the Vivint Smart Home app, so you may not be entirely limited in that regard.
There is also another way you can have Vivint to work with Apple HomeKit.
You can use Homebridge.
Homebridge is a powerful server that you can use to emulate the iOS HomeKit API. Okay, this may sound a little too technical, and to a certain extent, it is, so you will need some basic knowledge on how to set it all up. The good news is that there are some very detailed instructions.
Homebridge is free and does not cost anything. There is a Homebridge plugin that is designed especially for Vivint devices, which allows them to seamlessly integrate with Apple HomeKit. (Of course, you will need an active subscription to Vivint for it to work.)
With that being said, so far, Vivint has worked hard to make their devices fully compatible with Amazon's Alexa and Google Assistant, and the company has expressed its willingness to improve the integration capabilities of its smart home security devices in the future, so it might not be too long before we see Apple HomeKit compatibility.
Smart Locks That Work With Apple Watch
Smart Locks That Work With Vivint
Video Doorbell vs Security Camera